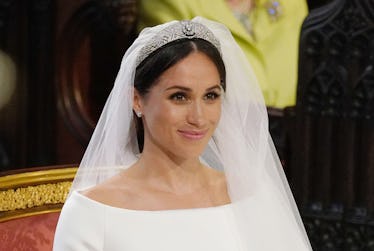 Meghan Markle's Dad's Reaction To Her Marrying Prince Harry Will Make You Sob
WPA Pool/Getty Images Entertainment/Getty Images
Earlier this week, Meghan Markle's father Thomas Markle made headlines when Kensington Palace released a statement confirming he would not be present at the royal wedding to walk his daughter down the aisle. But now he's in the spotlight once again, because Meghan Markle's dad's reaction to the royal wedding is adorable, heart-wrenching, and IMO, incredibly frustrating all at the same time.
But first, a little backstory. The weekend before the wedding, Mail On Sunday obtained footage of Thomas willingly posing for staged paparazzi shots. The lovable photos that circulated the internet of him reading a book called Images Of Britain and Googling his daughter at an internet cafe were all fake and he was paid to sit for them, as confirmed by Meghan's half-sister, Samantha Grant (who now goes by Samantha Markle), who said it was all her idea.
On Monday, just days after Thomas was exposed, he reportedly told TMZ he would not be attending the royal wedding because he didn't want to "embarrass the royal family or his daughter." I mean, understandable, but on the other hand, walking a soon-to-be duchess down the aisle in front of the Queen and the entire royal family is literally a once in a lifetime opportunity, especially when it's his daughter! Not to mention, it's a moment Meghan has surely been waiting for her entire life. His not wanting to participate was heartbreaking.
But fast forward to Tuesday, and Thomas tells TMZ that he suffered a heart attack a week prior and started feeling chest pains the Monday before the wedding. He reportedly had to have heart surgery two days later, on the Wednesday before the wedding. "They [doctors] will go in and clear blockage, repair damage and put a stent where it is needed," he told TMZ. These conflicting reports, both coming from Thomas himself, were followed by an official statement from Meghan via Kensington Palace on Thursday, where she confirmed he would not be attending her wedding and that she "hopes he can be given the space he needs to focus on his health."
This was all incredibly frustrating, clearly, so when it was announced that Meghan would instead be walking down the aisle alone for part of the way before being escorted through the Quire (where the guests closest to the couple sit) by Prince Charles, things were looking up! Meghan basically showed that she doesn't need anyone to walk her anywhere, thank you very much, she can walk herself — but also honored tradition by having her new father-in-law symbolically "give her away," (which technically didn't even happen because Charles actually stood behind her as she approached Harry).
It surely must have sucked to be Thomas and see your daughter be walked down the aisle by someone else, and his wedding day statement to TMZ just confirmed how he was feeling.
"My baby looks beautiful and she looks very happy," he said. "I wish I were there and I wish them all my love and happiness." He also described watching the ceremony as "emotional and joyful." He's reportedly in California recovering from his surgery. Most, if not all, of his statements regarding Meghan's wedding have been given to TMZ.
The good news is that Meghan seems to have had a great time at her wedding ceremony, and her mom, Doria Ragland, rode with her in the car from their hotel to the ceremony (and wore a nose ring!). She sat front and center! It's nice to see that despite all the untimely family drama surrounding her wedding to Prince Harry, Ragland was a strong and steady beacon of support.
During their engagement interview, Meghan revealed that Harry had not yet met Thomas, but that they'd talked on the phone a few times. Hopefully a face-to-face meeting is soon to come!