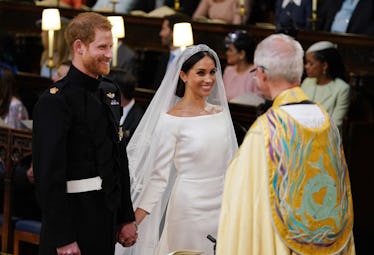 Meghan Markle's Family Was Dropped From Royal Wedding Coverage & TBH, I'm About It
WPA Pool/Getty Images Entertainment/Getty Images
I've followed Meghan Markle's family drama leading up to her and Prince Harry's wedding as much as any fan of the royals would, and while she may have some dysfunctional family bonds (and don't we all?), Meghan's parents obviously love and support her ahead of this new stage of her life. As any rom-com about a wedding will tell you, the week before the couple's big day wasn't without some more family issues, but thanks to true fairy tale magic, Meghan Markle's family was dropped from royal wedding coverage, and I'm honestly thrilled.
It appears that Markle's estranged family members were likely fired from TV coverage as a result of the family drama dominating the week before the wedding in Windsor, England. Earlier this week, Meghan's dad Thomas Markle Sr. suddenly chose not to attend as planned, reportedly citing his staged paparazzi photos as the reason why and telling TMZ that he did not want to embarrass Meghan and the royal family. Elite Daily reached out to Kensington Palace about the reports but did not hear back by the time of publication.
In an appearance on British talk show Loose Women, Meghan's half-sister Samantha Grant, now using the surname Markle, took responsibility for the posed photos of their father researching England and getting measured for a suit, saying,
I have to say I am entirely the culprit. I said, 'You have to show the world you're getting in shape.' It was my suggestion... I can understand it's awkward for Kensington Palace.
Ouch. It isn't the first time Samantha swam a little too deep into the press pool, having promoted her upcoming memoir about her relationship with Meghan since the royal couple announced their engagement last November. The women reportedly haven't spoken to each other in about three years, and Samantha was not invited to the wedding.
But Thomas Markle's embarrassment wasn't the only thing keeping him from the wedding. After a brief period in which outlets reported that Meghan had talked to her father and convinced him to come to Windsor, Thomas Markle finally announced that he wouldn't attend the wedding due to his recovery from heart surgery on Wednesday, May 16. In a solo statement, Meghan Markle addressed his absence, saying,
Sadly, my father will not be attending our wedding. I have always cared for my father and hope he can be given the space he needs to focus on his health.
While there were rumors that Samantha had been hired for TV coverage of the wedding, she reportedly spent the big day by throwing her own watch party at her Florida home. The Daily Mail reports that a television satellite truck was outside her home in preparation for Samantha to give another public interview.
Samantha isn't alone in her interference with the press. While Markle's mother, Doria Ragland, was reportedly the only family member present at the wedding, TV networks jumped at the chance to snag some of Markle's estranged family for their own wedding coverage. According to The Sun, British network ITV hired Markle's former sister-in-law, Tracy Dooley, and nephews, Tyler and Thomas, for coverage, and in the days leading up to the wedding, Tracy even shared photos of herself in London on social media. Tracy, who is divorced from Meghan's half-brother, Thomas Markle Jr., has reportedly not spoken to the blushing royal bride in about 20 years.
Only two days before the wedding (and after Markle's dad announced once again that he wasn't attending), ITV confirmed that Tracy and her sons would not be part of the network's event coverage. However, ITV didn't correct or respond to other outlets' reports that it had hired the trio in the first place. An ITV spokesperson also neglected to tell The Sun if the family was previously hired, but the fact that Tracy and her sons were already in London seems to speak for ITV.
After sitting through way too many uncomfortable interviews of Samantha talking about Markle, I'm glad any chances of other relatives ruining her and Harry's day were quickly extinguished. The estranged family members' absence is a true wedding miracle.