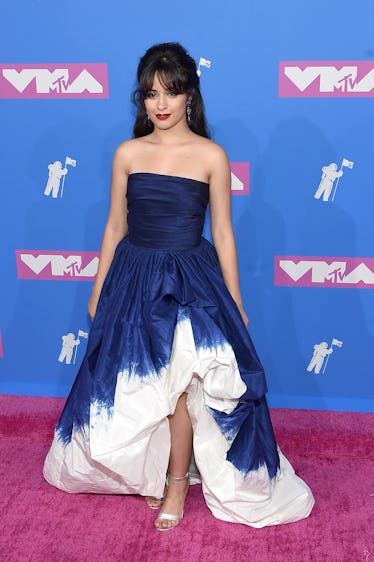 Camila Cabello Had The Most Awkward Reaction To Tiffany Haddish Calling Out Fifth Harmony
Jamie McCarthy/Getty Images Entertainment/Getty Images
Tiffany Haddish goes there. The hilarious comedian took to the 2018 VMAs stage alongside Kevin Hart (her co-star in the upcoming film Night School) to make some jokes and introduce Best Hip Hop. But her appearance didn't come without a comedy casualty. In tonight's case it was a certain girl group that lost a very famous member. Camila Cabello's reaction to Tiffany Haddish calling out Fifth Harmony was... well, awkward.
"Camila Cabello's nominated for five awards tonight," Tiffany remarked. "So for those of you watching at home... Hi, Fifth Harmony!" Yup. She said that. Even Kevin Hart was a little taken aback. Oh, the shade of it all! And Camila just shook her head with a smile. What else was she gonna do? Man, she'll never escape her past...
Immediately following the gag, Nicki Minaj ended up nabbing the award for Best Hip Hop and couldn't help but running to Fifth Harmony's — well, one member's — defense. "Don't be coming for Fifth Harmony because Normani is that b*tch!" the rapper declared. Well, at least we know where Nicki stands on the matter.
Camila Cabello is admittedly killing it in her solo career since exiting Fifth Harmony in 2016, even if Normani is also doing her thing. Cabello is up for five Moon Person awards tonight: Video of the Year, Artist of the Year, Song of the Year, Best Pop Video, and Best Choreography.
Though Cabello became a household name as a member of Fifth Harmony, since her solo career took off, she has tried to be transparent with fans about why she left the group. "It became clear that it was not possible to do solo stuff and be in the group at the same time," Cabello has said of leaving the band. "If anyone wants to explore their individuality, it's not right for people to tell you no."
Cabello's debut solo album, Camila, was released in January of 2018. She's broken records with her catchy banger, "Havana." The fiery jam has been topping the charts for almost a year. Turn on the radio now. I'll bet you it's on.
Cabello spoke about her meteoric rise in an interview with NME back in February, explaining that she hasn't quite come to terms with her superstardom. The 21-year-old admitted:
It feels amazing. But it also feels like it's not me, if that makes sense? I'm like, 'Oh yeah, that's my twin'. It's almost like Hannah Montana and Miley Cyrus. But… I don't know. I feel like so much stuff is happening to me all the time, and that's kind of a good thing because I don't really have time to process it and let stuff sink in. But really it just feels amazing that people are actually listening to my songs. I think back to when I was 15 and didn't even think this [career] was a real thing that could happen.
Welp, it's a real thing... And while fame has its obvious perks, there's also that whole "getting talked about during a live awards show" thing. At least she knows how to laugh it off?