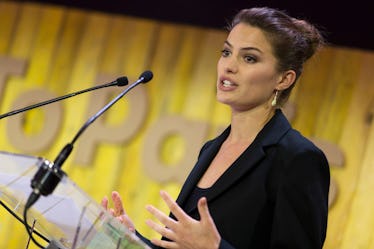 Models Are Sharing Their Sexual Assault Stories On Instagram & We're So Here For It
KENZO TRIBOUILLARD/AFP/Getty Images
For years, Harvey Weinstein allegedly sexually assaulted and harassed countless women. Now, an onslaught of victims are coming forward with their stories – and it's going far beyond one powerful, disgraced movie producer. Within this outpouring of stories, model Cameron Russell is sharing model's sexual assault stories on Instagram, and the posts are truly, shockingly awful.
In the past few weeks, many victims have been stepping into the spotlight and making their voices heard. More and more women are accusing Weinstein of heinous, deeply inappropriate acts, that range from harassment to assault.
Of the allegations, Sallie Hofmeister, Weinstein's spokeswoman, said in a statement,
Any allegations of non-consensual sex are unequivocally denied by Mr. Weinstein. Mr. Weinstein has further confirmed that there were never any acts of retaliation against any women for refusing his advances. Mr. Weinstein obviously can't speak to anonymous allegations, but with respect to any women who have made allegations on the record, Mr. Weinstein believes that all of these relationships were consensual. Mr. Weinstein has begun counseling, has listened to the community and is pursuing a better path. Mr. Weinstein is hoping that, if he makes enough progress, he will be given a second chance.
The collective bravery of each victim who has shared their alleged Weinstein story has produced a pretty incredible ripple effect. Lili Reinhart opened up about being allegedly sexually harassed by a co-worker. Blake Lively discussed a make-up artist who reportedly made inappropriate comments and filmed her while she was sleeping.
And now, fashion model Cameron Russell is opening up her Instagram to share stories of models who have been sexually assaulted and harassed. The posts, which are filed under #MyJobShouldNotIncludeAbuse, are anonymous — and completely terrifying. As of Oct. 13, there are already 25 first-hand stories posted to Russell's account.
Russell explained that she's trying to shed light on an issue that many women face, but are often too scared to discuss. She wrote on Instagram,
Hearing about #harveyweinstein this week has sparked conversations about how widespread and how familiar his behavior is. We talked about how hard it is to share stories of assault. When they are the norm, calling them out can feel disruptive and unprofessional.
The model went onto explain that, because of the nature of her job, accusations of harassment and assault are often minimized.
"On many occasions I've been called a feminist for reporting unwanted groping, spanking, pinching, pressure for dates, phone calls and texts of a sexual nature, lack of appropriate changing areas, etc," she wrote. "And because the response has always been 'are you surprised?' or 'that's part of the job' I tolerated them."
Russell emphasized that it's terrifying to call people in the industry out, because it brings "exposure and backlash" to an experience that is already "painful and sometimes shameful."
She's certainly not alone in these feelings.
Many of the stories paint pictures of seedy photographers and unethical agencies, who are taking advantage of often young, inexperienced models. In a lot of instances, models were made to feel like the advances or inappropriate requests were the norm, and by declining them, they were being silly, or hurting their careers.
Trigger warning: These posts contains information about sexual assault and/or violence, which may be triggering to survivors.
Many Instagram users have thanked Russell for sharing such important stories publicly.
"These are so upsetting — the stories themselves and the quantity of stories," one user wrote. "I'm glad you all are bravely taking the industry to task and am wishing continued healing for these individuals."
British model Edie Campbell posted on her own Instagram story,
Thank you to @CameronRussell who is sharing the anonymous stories of models who have been abused / assaulted / harassed / told to put up with it because 'it's just the way it is.'
Sending so much love and support to all these brave souls telling their stories.