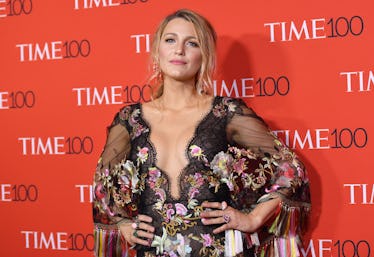 Blake Lively Says She Was Sexually Harassed By A Makeup Artist & The Story Is So Upsetting
ANGELA WEISS/AFP/Getty Images
The recent allegations of sexual assault and harassment surrounding Hollywood producer Harvey Weinstein have other stars speaking out about their own experiences. Among the stories coming to light is one from Blake Lively, who claims she was sexually harassed by a makeup artist. The details are beyond upsetting.
The New York Times first broke the story about Weinstein, with allegations from various women who claim Weinstein assaulted or harassed them in the past. In response to the article and allegations, Weinstein released a statement to the public that said:
I appreciate the way I've behaved with colleagues in the past has caused a lot of pain, and I sincerely apologize for it. Though I'm trying to do better, I know I have a long way to go.
Further, Weinstein's spokeswoman, Sallie Hofmeister, provided the following statement to Elite Daily in response to previous accusations:
Any allegations of non-consensual sex are unequivocally denied by Mr. Weinstein. Mr. Weinstein has further confirmed that there were never any acts of retaliation against any women for refusing his advances. Mr. Weinstein obviously can't speak to anonymous allegations, but with respect to any women who have made allegations on the record, Mr. Weinstein believes that all of these relationships were consensual. Mr. Weinstein has begun counseling, has listened to the community and is pursuing a better path. Mr. Weinstein is hoping that, if he makes enough progress, he will be given a second chance.
Weinstein has reportedly traveled to Arizona to check into rehab, but the reports of assault and harassment have prompted others to speak up about their own personal experiences in the industry.
Among those is Lively, who claims to have been harassed by a makeup artist, the details of which she calls "terrifying."
Lively told the LA Times:
He was saying things inappropriately, insisting on putting my lipstick on with his finger. I was sleeping one night on location and I woke up and he was filming me. I was clothed, but it was a very voyeuristic, terrifying thing to do.
According to the report, Lively was so freaked out by the incident that she reported the man to the producers of the project. She claims they did nothing about the makeup artist, but did call on her to discuss, of all things, her dog. She said:
Finally, after three months of complaining, they called me into my trailer and said, "We need to talk to you." I thought, "Well, finally, they're going to do something about this man who I had to have touching me all day." And they said, "Your dog left a poop behind the toilet in your dressing room and our janitor had to pick it up. And this is very serious and we can't have this happening again."
Understandably bothered by the lack of action in response to her harassment claims, Lively says she discussed the matter with her lawyer and, eventually, the makeup artist was removed from the project.
Despite the allegations and removal from the film, Lively notes that the production manager still "wrote him a letter of recommendation" because "nobody wanted there to be bad blood."
Speaking with The Hollywood Reporter, Lively discussed the current allegations against Weinstein, explaining: "That was never my experience with Harvey in any way whatsoever, and I think that if people heard these stories... I do believe in humanity enough to think that this wouldn't have just continued."
She added: "I never heard any stories like this — I never heard anything specific — but it's devastating to hear."
The actress touched on why sharing these stories is so important, explaining:
The number one thing that can happen is that people who share their stories, people have to listen to them and trust them, and people have to take it seriously. As important as it is to remain furious about this, it's important to also say that this exists everywhere so remember to look everywhere. This isn't a single incident. This cannot happen, this should not happen, and it happens in every single industry.
As for her own personal experience with harassment, the actress noted: "It happens to women all over the place, all the time, to the point where women don't even think that this is a real assault."
Lively continued:
I've had plenty of things happen to me, whether it be trying on a dress for prom at some clothing store, to a director being inappropriate, to a guy walking down the street where you don't think: "Oh well, that wasn't actually sexual assault — that guy just, like, grabbed my butt."
Lively further noted how "it's important that women are furious right now," explaining:
It's important that women are furious right now. It's important that there is an uprising. It's important that we don't stand for this and that we don't focus on one or two or three or four stories, it's important that we focus on humanity in general and say, 'This is unacceptable.'
Check out the entire Gen Why series and other videos on Facebook and the Bustle app across Apple TV, Roku, and Amazon Fire TV.