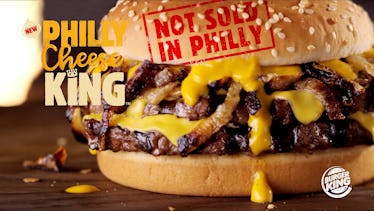 Burger King Just Released A Cheesesteak Burger & It Sounds Like My New Go-To Order
Burger King
Ah, Philadelphia. The city of brotherly love. A city known for its wide range of historic landmarks, the victorious 2018 Super Bowl win, and, most importantly, the most unreal (and completely authentic) Philly cheesesteaks on the planet. And while I'm all about authenticity, beloved fast food chain Burger King recently announced the launch of a new creation, the Philly Cheese King. Overall, it's gotten really positive feedback. Pretty soon, you'll be able to find Burger King's Philly Cheese King at almost every BK restaurant nationwide, with the exception of one surprising location.
Burger King's Philly Cheese King sounds pretty delicious, if you ask me. For only $5.99, you'll be sinking your teeth into over half a pound of flame-grilled beef, caramelized onions, and creamy American Cheese sauce, according to a press release. Yum. To be completely honest, it sounds almost identical to what I ate on my family trip to Philly about 10 years ago. I, personally, would definitely be down to give it a shot.
While the Philly Cheese King sounds up to the standards for my somewhat adventurous palate, one Burger King location in the heart of Philadelphia is refusing to serve the chain's version of the sandwich. That's right — the Burger King located at 15 South 8th Street has (literal) beef with the idea of selling a BK Philly cheesesteak, and the store is refusing to sell it until it's otherwise overturned by BK (aka until Burger King steps in to give customers at this Philadelphia BK location this new cheesy offering). It's kind of a big deal.
Even though BK's South 8th Street location won't be selling the Philly Cheese King, Philadelphians have, in fact, approved of BK's rendition of the city's beloved sammie. Check out the video showing their reactions— one man admitted the Philly Cheese King was "not bad," while one guy said he'd "probably eat this whole thing if [he's] allowed." One woman even reluctantly confessed that she "hate[s] to admit it, but, [she] like[s] it." In the words of Tag Team, "whoop, there it is." Burger King has won.
You won't be able to snag this glorious sandwich for long, though. According to the press release, it'll only be available for a super limited time at participating Burger King restaurants, starting on Thursday, Oct. 25. Even if you're in Philly, you should definitely try getting your hands on one of these babies, before they're gone.
After sinking your teeth into the Philly Cheese King, give Burger King's other limited-time sandwich a go. Just in time for Halloween, the flame-grilled burger joint has released a Nightmare King Halloween burger. It'll only be around for a limited time, since it debuted on Monday, Oct. 22. The sandwich will feature a crispy chicken filet, a quarter-pound of flame-grilled beef, American cheese, mayo, bacon, onions, and most importantly, a haunting green bun. Snag a bite before they officially disappear on Nov. 1. Spooooky.
Don't get me wrong — the Philly Cheese King sounds pretty groovy. But, I kind of get the reluctance coming from Burger King's Philly location. If they started selling "New York-style pizza," in the Big Apple, I think I'd get pretty defensive, too. Regardless, the ooey-gooey sandwich is getting some really solid feedback — even from Philadelphians — so you'd better get one before they're all gone.