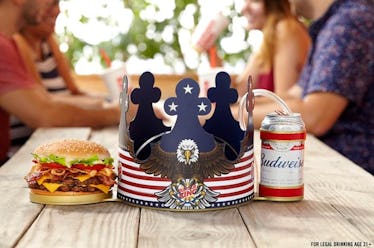 Burger King Released A Crown That Holds A Burger & A Beer, & I Really Want One
Burger King
Forget the floppy beach hats and backward baseball caps, because Burger King is here with what is sure to be known as the hat of the summer. Just in time for the Fourth of July holiday, the burger chain released a patriotic twist on its classic golden crown, along with a new flame-grilled burger to boot. This patriotic promotion is only available for a limited time, so grab yours sooner rather than later. Burger King's "Freedom Crown" holds a burger and a beer, so you can live your best life all summer long.
Adorned with a stars and stripes, as well as an American bald eagle, Burger King's new "Freedom Crown" brings together burgers and beer in a whole new way. There's no denying that the burgers and beer are pretty typical summer pairings, and now Burger King is letting you have them both — hands free, that is. That's right: Burger King and Budweiser, more affectionately known as "The King of Beers," are forging a new alliance to make your summer better than ever. The "Freedom Crown" was built to hold Burger King's new American Brewhouse King Sandwich and a Budweiser beer, so you don't have to.
The new burger is a pretty solid sandwich, too, weighing in at over a quarter-pound (more on that later). Not to mention the "Freedom Crown" also holds the weight of full 12-ounce Budweiser beer. So, now you can go plate-free and hands-free while you eat and drink at your next summer barbecue (if you're over 21 years old). If this isn't innovation at it's finest, then I don't know what is.
The royal partnership doesn't stop there. To celebrate the launch of the commemorative red, white, and blue crown, Burger King remade Budweiser's iconic "Whassup" commercial. You probably remember the original commercial that was released in 1999 that featured three people screaming "Whassup" into the phone over and over again. I mean, how could you not? The commercial went down in history as one of the most popular ever. Well, now the memorable commercial is back with a 21st century twist, thanks to Burger King's remake. This is the ultimate way to throw it back to the greatest decade ever (the '90s), and launch the limited edition crown.
Now, back to that brand new burger that was made for the "Freedom Crown." Burger King's American Brewhouse Sandwich is no joke. The burger features "two savory flame-grilled beef patties totaling more than a quarter-pound of beef, topped with three half-strips of thick-cut smoked bacon, crispy onions, tavern sauce, American cheese and creamy mayonnaise all on a sesame seed bun," according to a Burger King press release.
The all-American patty is only available for a limited time, so order up before it's too late. You can find the American Brewhouse King Sandwich — along with the iconic "Freedom Crown" — at participating Burger King locations across the country for $6.19.
Burger King and Budweiser are also using this as an opportunity to show their support for the troops, and celebrate all of the veterans who work and have previously worked for both companies. This promotion is ticking all of the right boxes, and is an all around win-win for everyone.
There are two things to remember about this patriotic partnership. The "Freedom Crown" deal is intended for those who are of legal drinking age, 21 years and older. So, if you will be indulging in the brewski and burger promotion, remember to drink responsibly. Also, both the "Freedom Crown" and the American Brewhouse King Sandwich will only be available for a limited time, so make sure you get yours before it's too late. Pictures, or it didn't happen.