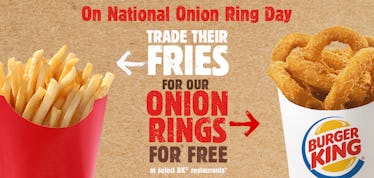 You Can Get Free Onion Rings From Burger King In June & Here's How
Burger King
National Onion Ring Day falls on Friday, June 22 this year. Even the most loyal fans of the crispy round bite might not stay tuned to this annual holiday, but Burger King is giving you a great reason to pay attention this year. The fast food chain is most known for its famous burgers (and the awesome paper crowns), so tasty sides like its onion rings go unnoticed. If you've been missing out, here's how to get free Burger King Onion Rings with one simple step.
Generally, the mention of free food tends to make people listen, so I know you're excited to learn how you can get your hands on free Burger King Onion Rings. While it is pretty simple to do, it's important to remember that the offer is only available on Friday, June 22 in honor of National Onion Ring Day, according to Burger King. Customers at four lucky Burger King locations can get a free order of Onion Rings when they bring in an order of any competitor's french fries from 10:30 a.m. until midnight. See? Easy.
If you want to check your local restaurant or plan a National Onion Ring Day road trip, I'll tell you the four locations are:
1401 W. Fullerton, Chicago, Illinois
1601 N. Hacienda Boulevard, La Puente, California
474 7th Avenue; New York, New York
108 Boston Street, Lynn, Massachusetts
If you're in the area of one of the four participating locations in Chicago, Illinois; La Puente, California; New York, New York; or Lynn, Massachusetts, then all you need to do is bring some competitor's french fries to trade in for a free order of Burger King's "hot and crispy" Onion Rings. While there is no purchase necessary, the "validity" of the competitor's fries will be "determined by Burger King restaurant personnel in their sole discretion," so make sure your french fry choice is legit.
If you're all about the sauce when it comes to your sides, then the Burger King Onion Rings are perfect for you. Per the release, the rings go great with all the "BK bold or classic sauces." For a perfect pairing, try dipping the crispy, round Onion Rings in the Zesty sauce.
This deal isn't a celebration of Onion Rings as a new Burger King menu item, because Burger King has "long been serving Onion Rings" on its permanent menu. Of course, you tend to automatically think of fries when you want a side order to accompany your Whopper, but Burger King also has crispy, golden deliciousness to offer in the form of its Onion Rings. Therefore, BK is using National Onion Ring Day to remind its customers all about them.
While the Onion Rings are an OG item on the BK menu, there is something new at Burger King that might just pair perfectly with a fresh, hot order of Onion Rings. The fast food chain recently announced the new Crispy Pretzel Chicken Fries.
Yes, the same delicious Chicken Fries you fell in love when they were first introduced in in 2005 are now available to enjoy in a whole new way. The Crispy Pretzel Chicken Fries are made with all white meat chicken and coated in a crunchy, salty pretzel breading, per the description on the Burger King website.
There are plenty of sauce-dipping options for the Crispy Pretzel Chicken Fries, and you can even stick to the same Zesty sauce you use for your Onion Rings. Whatever your sauce or Chicken Fries preference, a side of Burger King Onion Rings are sure to be great with it all. Remember to snag your free order of BK Onion Rings for a simple swap on National Onion Ring Day, because you don't want to miss out on this tasty offer.