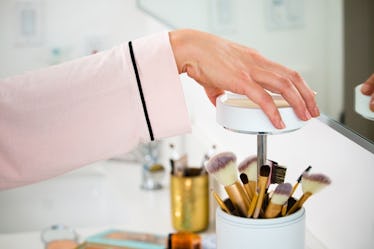 A Makeup Brush Cup That Sanitizes Your Brushes Is Coming & It's Low-Key Genius
When it comes to keeping my beauty cabinet organized and clean, I fail miserably. Eyeshadow and blush crumbles litter my makeup bag, while my compacts are all marked up with various eye pencils and lip liners. The next beauty product I buy should therefore absolutely be Brushean's electric makeup brush sanitizer, seeing as my brushes float around unprotected in the same bags as the aforementioned items. Every time I use one, I have to check it for lint and tap off whatever excess pigments it might have picked up to ensure I don't smear them on my face, too. That ain't right.
I struggle with breakouts, so you would think that sanitizing my brushes would be of the utmost priority. According to Elle, you should clean them weekly to rid them of dirt, oil, and other impurities that can cause acne. I, however, can count on one hand the number of times I have cleaned my set of six brushes, which I've owned for eight years. There is so much wrong with that prior sentence that I'm cringing just writing this. I think for me, it comes down to not remembering to clean my brushes or, when I do, not wanting to take the time to give each one its own little bath.
New company Brushean is here to make the process ridiculously easy and painless, thanks to its incredibly hands-off design. All you have to do is place your makeup brushes into Brushean cup — which is essentially a thin metal cylinder — and push a button — the rest is taken care of. For the next five minutes, UV-C sterilization technology takes over and kills 99.9 percent of all bacteria and viruses that could be living in your bristles. Brushean's website breaks down my struggle, because I'm not alone in brushing off brush washing.
"Girls wash their face everyday, hoping to achieve flawless and glowing skin. Yet, they only follow up with using sticky and dusty makeup brushes. We all know it is almost impossible to wash and clean your brushes everyday when you are loaded with endless errands and Netflix drama. Brushean Brush Holder was developed to solve this problem."
They get me! What's more, Brushean's hydraulic lift function and dust cover help ensure that brushes are stored in a dust-free environment, even when they're not being sanitized.
Here's the catch: unfortunately, Brushean is still in its Kickstarter phase and won't be available until December of 2018, which, yes, feels like a lifetime away at the moment. But if you know you'll be wanting one ten months from now, you can pledge $49 to the brand now and they will send you one as soon as the product is produced. Considering it's set to retail for $120, it's definitely a great deal.
If reading this article made you realize that you, too, need to get on brush cleaning STAT, I'd recommend getting an actual brush cleaner product from Sephora or another beauty store. Hand soap can include ingredients that you probably don't want touching your face if you have irritated skin, so it's best to stay away from it. I've listed a few highly rated ones below, which I will 100 percent be purchasing within the next 24 hours.
A professional-grade liquid makeup brush cleaner, this option is quick drying, rinse free and 99.99 percent antimicrobial.
Sephora brand brush cleaner comes in a handy spray bottle and is quick-drying and alcohol-free. It won't leave an oily residue that some other products will, and it's infused with lemon, lime grapefruit, and tea-tree oils for a more natural base. Use it with this sponge for optimal cleaning.
While made specifically for cleaning beauty blenders, this product also works great for brushes. Free of dyes and skin irritants, it offer protection against 99.7 percent of harmful germs.