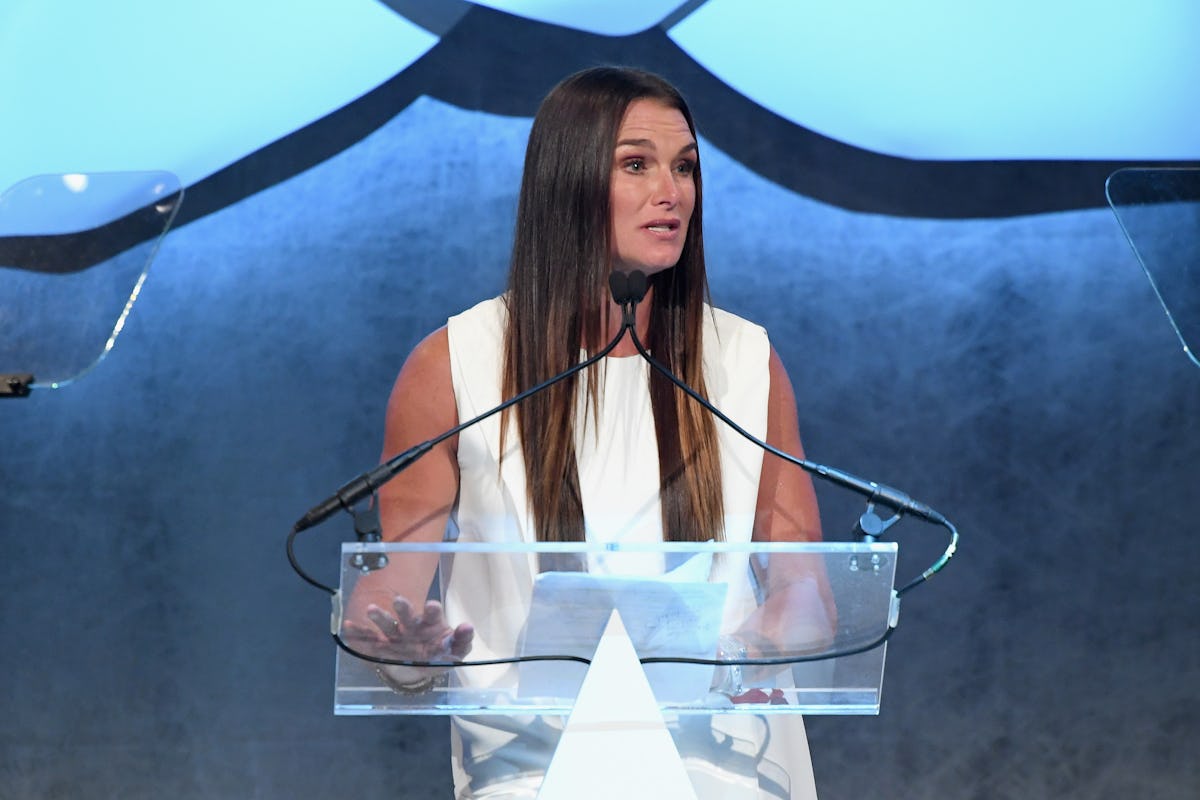 Brooke Shields Says Donald Trump Tried To Date Her in 1999, After He Met Melania
Dimitrios Kambouris/Getty Images Entertainment/Getty Images
Buried among all the political news of the week is a story revolving around an exchange between one of Hollywood's biggest stars and the President of the United States, which was revealed on late night television. During the Tuesday, Oct. 3, airing of Bravo'sWatch What Happens Live With Andy Cohen, Brooke Shields said Donald Trump tried to date her in 1999, unsuccessfully so. Shields told host Andy Cohen,
He called me. I was on location doing a movie, and he called me right after he had gotten a divorce ... He said, 'I really think we should date because you're America's sweetheart and I'm America's richest man and the people would love it.'
While Shields notes that the exchange with Trump happened after he divorced his second wife, Marla Maples, the timeline the actress drew out seems to have implicitly revealed another detail: Trump's supposed attempt at dating Shields came after he met his third wife: First Lady Melania Trump.
The moment from Shields' interview in which she tells her story about Trump can be seen in the video below:
Donald and Melania Trump first met in 1998, at a Manhattan night club for a party during New York Fashion Week. Back in 2005, during an interview with CNN's Larry Kind, the president recalled the moment he met her:
I went crazy. I was actually supposed to meet somebody else. There was this great supermodel sitting next to Melania. I was supposed to meet this supermodel. They said, 'look, there's so and so.' I said, 'forget about her. Who is the one on the left?' And it was Melania.
The following year, 1999, Trump finalized his divorce from Maples. In November of the same year, Trump had a memorable phone interview on Howard Stern's radio show, during which Melania Trump briefly featured.
The interview was highlighted by Stern asking Melania Trump whether she was naked at the time, and other moments during which the host mused about the couple's sex life and Melania Trump's appearance.
At one point during the interview, Trump said,
She is actually naked. It's a thing of beauty.
At the time, Donald Trump had been a candidate for president, running under the banner of the Reform Party. The interview would eventually draw criticism from the party's chairman, who said,
The very first principle of the Reform Party is to set the highest ethical standards for the White House and Congress, not the most base, crass attempt to appeal to the lowest common denominator. Whatever their private life is, it should be exactly that — their private life.
According to Shields' timeline, Trump ask her out on a date during the same year. But Shields said she turned down the real estate mogul at the time, telling Andy Cohen her reply to Trump was,
I have a boyfriend. He's not really going to be happy about it.
What Melania and Donald Trump's relationship status was at the time is, of course, unclear. The pair did have a reported break-up in 2000, with Trump telling the New York Times,
Melania is an amazing woman, a terrific woman, a great woman, and she will be missed.
When exactly that break began, though, is not certain. What does seem certain, however, is that Trump does have a history of going after some of Hollywood's biggest names.
Over the summer, actress Selma Hayek recalled a story in which she says Trump asked her out while she was with her boyfriend. Hayek told Trevor Noah,
He's inviting me out, and I'm like, 'What about my boyfriend? Am I crazy? Are you asking me out? You know I have a boyfriend,'
Hayek then said that Trump replied,
'He's not good enough for you. He's not important, he's not big enough for you. You have to go out with me.'
So, you can add Hayek to the list of names, along with Brooke Shields, who it looks like Trump enticed after he met the woman who'd eventually become his third wife, Melania Trump.