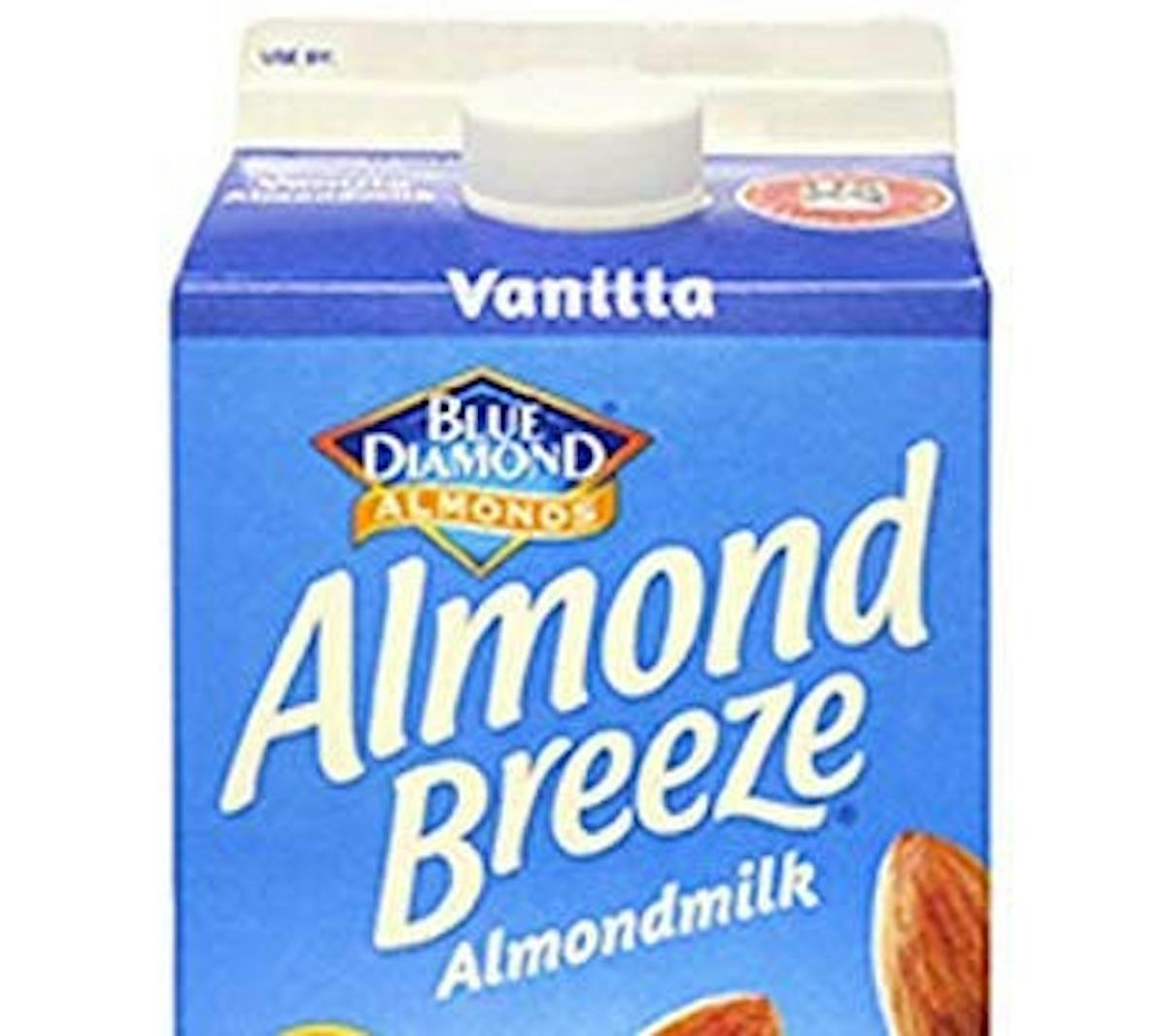 Check Your Refrigerator For This Recalled Almond Milk, Because It May Contain Dairy
Ever since almond milk hit the food scene, I've been a devout consumer of the dairy-free beverage. While people choose the milk alternative for many reasons, some people need to drink almond milk because of serious dairy allergies. If you're one of those people, then you'll want to pay attention to the latest news from one company making the stuff. Blue Diamond Vanilla Almond Breeze was recalled by the manufacturer, because it may actually contain dairy milk.
According to a recall notice posted online by Blue Diamond on Friday, Aug. 3, the company "is voluntarily recalling a limited number of half-gallon (1.89 L) cartons of refrigerated Vanilla Almond Breeze almondmilk..." The reason behind the recall is that certain containers may contain dairy milk, which is "an allergen not listed on the label." Blue Diamond warns in the recall that anyone with an allergy to dairy milk may encounter a serious allergic reaction if the recalled beverage is consumed.
With that warning, Blue Diamond also provided more information about which cartons of the stuff are affected by the recall. According to Fast Company, it includes 145,254 cartons of Vanilla Almond Breeze. Furthermore, Blue Diamond provided the information that only refrigerated half-gallon cartons with a "use-by date of September 2, 2018 and UPC code 41570 05621" are affected.
If you check your carton of Vanilla Almond Breeze to find that it is one of the recalled items, you may return it to the location where you bought it for a full refund or exchange, per the recall notice. Alternatively, you can go about getting a "replacement coupon" online when you fill out the "Consumer Information Form."
For those of you who are most concerned about ingesting dairy, Blue Diamond also provided a list of which states received deliveries of the recalled almond milk. Per the recall from the company, the affected half-gallon cartons — which is 0.8 percent of the total shipments of Vanilla Almond Breeze from the last year — were "shipped to retailers and wholesalers" in Alabama, Arkansas, Connecticut, Florida, Georgia, Iowa, Illinois, Indiana, Kentucky, Louisiana, Maryland, Maine, Michigan, Minnesota, Missouri, Mississippi, North Carolina, Nebraska, New Jersey, New York, Ohio, Oklahoma Pennsylvania, South Carolina, Tennessee, Texas, Virginia, and Wisconsin.
So, if you have an allergy to dairy milk and live in one of those states, you'll want to take a look at any recent Vanilla Almond Breeze purchases to make sure that your half-gallon carton is free of dairy milk. Again, the affected cartons have a "use-by date of September 2, 2018 and UPC code 41570 05621."
While this recall isn't good news for those people who have severe allergies to dairy milk, the bright side for those people unaffected by milk allergies is that they can safely drink the recalled milk — because there is no other reason for the recall beyond the possibility of dairy milk in the recalled containers.
This recall is different from other recent news about unsafe foods. Four kinds of Goldfish Crackers that may contain salmonella were recalled by Pepperidge Farm on July 23. Pepperidge Farm listed the pertinent information of the recall on its website and provided information for how consumers could get refunds.
So, before you make your morning latte or grab an afternoon snack, check your food to make sure that it's not affected by any of these recent recalls.