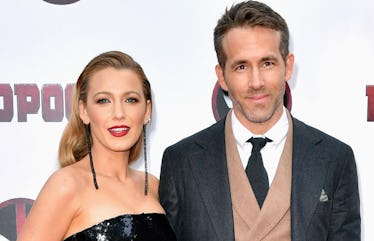 Blake Lively Has A Crush On Ryan Reynolds' Fake Twin Brother & I'm So Confused
Michael Loccisano/Getty Images
Happy Monday, everyone! This fine Monday brings another installment in the never-ending saga that is Blake Lively and Ryan Reynolds' amazing social media banter. The couple is one of the most beloved celebrity couples out there right now, and their social media exchanges just make us love them more every time it goes down. Most recently, Blake Lively and Ryan Reynolds' Instagram flirting is exactly what you'd expect from the couple given their social media track record. Watching them joke about their own marriage, their kids, etc., is just so damn entertaining, and this time around is no different.
Reynolds owns a gin company called Aviation Gin. In a video promoting the liquor posted to the Deadpool actor's Instagram, Reynolds appears as himself being interviewed by his fake twin brother, Gordon (also played by Reynolds). Gordon has the same dry humor Reynolds has because, well, obvious reasons, and spends the whole video trolling Reynolds. Reynolds, being an expert troll himself, clearly saw the humor in a video that features Ryan Reynolds trolling Ryan Reynolds. It's everything.
Lively took the opportunity to troll Reynolds along with Gordon and said, "Sh*t. Your brother is hot. I've made a terrible mistake…" Reynolds commented back, "You haven't made a mistake. You've been living with him for over a year." Oh, these two.
In the video, Gordon takes jabs at his "twin brother," trolling him with lines like "Children of celebrities, they always turn out normal. I'm sure they're going to be fine," and poking fun at the fact that Reynolds bought a gin company called Aviation when he neither invented gin nor can fly a plane. The whole "interview" is about three minutes long and the full version can be found on Reynolds' Twitter, but the Instagram video is where Lively left her comment.
Reynolds and Lively have been giving people life on Twitter lately, though. Like on May 26, for example, when Reynolds revealed that Lively drove him to the hospital when she was in labor.
Reynolds's tweet was in response to a trailer for Lively's upcoming film, A Simple Favor. One of the marketing lines for the film is "What happened to Emily?" (Lively plays Emily.) Lively tweeted the trailer for the movie, then Reynolds quoted it and said, "You can tell me. We're married. You once drove me to the hospital when you were giving birth. So... what the f*ck happened to Emily?" Lively responded, "Oh darling, of all the secrets I'm keeping from you, this should be the LEAST of your concerns... trust me."
Reynolds is clearly on board for the whole "What happened to Emily?" campaign for A Simple Favor. On April 30, people started noticing that Blake Lively deleted everything from her Instagram and unfollowed everyone she previously followed, including her husband. She then only followed people named Emily Nelson (the name of her character in the film). It was clearly a planned move for the film that Reynolds most likely knew about ahead of time, but Reynolds had a hilarious reaction to it.
In an interview with Australian radio show Smallzy's Surgery on May 2, Reynolds reacted to his wife unfollowing him saying,
I'm very sad about that. Definitely stinks. It's a terrible way to find out that I've been kicked out of the house, to be honest. Absolutely terrible. I don't know where rage like that comes from.
Classic Reynolds. All of Lively's Instagram posts were eventually restored (thank goodness for the archive feature, huh?), proving that they were never really gone in the first place. It was clearly just a move to get people buzzing about the trailer for A Simple Favor and oh boy, did it work. As of June 11, however, Lively still hasn't followed Reynolds back on Instagram. Could Gordon really be coming between them?!