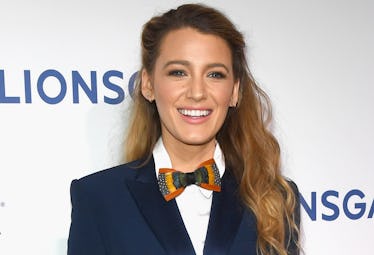 Something Weird Is Happening With Blake Lively's Instagram & I'm Seriously Creeped Out
Hey there, Upper East Siders. Something is happening on Blake Lively's Instagram. It's weird, I don't understand it, and it's freaking me the heck out on what should've been a happy Tuesday morning. Not cool, Blake! Blake Lively deleted her Instagram photos, so she has basically pulled a Taylor Swift. Swift wiped her social media clean in order to prepare for the arrival of her album reputation back in August of 2017, and now Lively has taken a page from the same book by deleting all of her Instagrams, changing her bio, and unfollowing just about everybody she followed before. The creepiest thing about all of this is that she now only follows 28 people, and they're all named Emily Nelson. Lively's bio was changed as well. It now says "What happened to Emily?..."
If you're scratching your head wondering what in the world this is all about, it's seemingly a promotional tactic for her upcoming film with Anna Kendrick called A Simple Favor (based on a book of the same name). Lively plays a woman named, you guessed it, Emily Nelson. The character mysteriously goes missing, and her best friend, a blogger and single mom named Stephanie Ward (played by Kendrick), tries to find out what happened to her. Hence "What happened to Emily?"
People on Twitter noticed the weird Instagram purge, and one of the Emily Nelson women Lively followed tweeted about it. Some thought Lively's account was hacked.
One Twitter user, whose name is apparently Emily Nelson, tweeted "Does anyone want to tell me why Blake Lively followed me and had this as a bio. Goodbye cruel world some hacker is anti-Emily, my time has come :-)." Then she posted a follow-up tweet of a screenshot of the likes her previous tweet received. One of the likes was Ryan Reynolds, and she understandably geeked out. She said, "ALRIGHT SO LONG F*CKING LOSERS MY EGO IS ETERNALLY THROUGH THE ROOF BYE." Fitting reaction.
Some people are wondering if Anna Kendrick is planning on purging her Instagram as well.
That doesn't appear to be the case, however. There aren't any trailers for the movie yet, but it's reportedly set to come out on Sept. 14, 2018. According to IMDb, A Simple Favor also stars Linda Cardellini and "centers around Stephanie (Anna Kendrick), a mommy vlogger who seeks to uncover the truth behind her best friend Emily's (Blake Lively) sudden disappearance from their small town."
The description of the storyline also says the film is a "stylish thriller filled with twists and betrayals, secrets and revelations, love and loyalty, murder and revenge," so this is basically going to be Gossip Girl: The Movie. It's no wonder Lively is being so extra about her promotion for it. Is this move a little premature given that the movie doesn't come out for another five months? Sure. Am I down for the ride? Absolutely.
Fans are excited to see Lively and Kendrick in a movie together for the first time.
Lively did give a bit of a heads-up (albeit a cryptic one) about her Instagram purge via her final post on Instagram. On April 30, Lively posted a hand-drawn game of Hangman. The answer to the game was "What happened to Emily?" The picture is pretty creepy, so Lively is clearly #committing to this role.
Noticing this trend, people are considering changing their names online to Emily Nelson so they can get a follow from Blake Lively.
Try that plan out and let me know how it goes, ladies. It's not clear if/when Lively will ever post on Instagram again. This tactic could mean she's keeping her Instagram blank to keep up the ~mystery~, or she's going to be posting photos that serve as clues for the film. Only time will tell, but Lively definitely has peoples' attention.