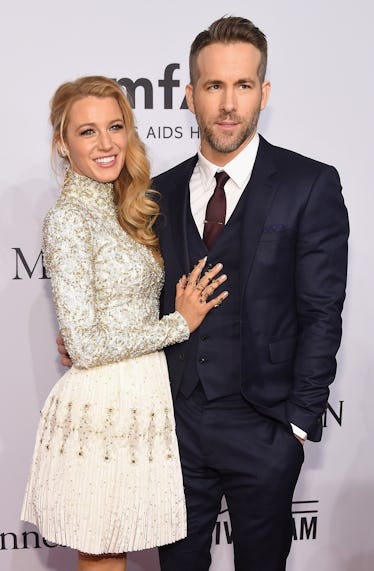 Blake Lively Revealed The Unbelievable Thing She Did For Ryan Reynolds While In Labor
Michael Loccisano/Getty Images Entertainment/Getty Images
Blake Lively and Ryan Reynolds are undoubtedly one of the funniest couples in Hollywood right now. While they don't always do comedy professionally (they've got versatile talents, for sure), they do partake in a lot of humorous banter with each other on social media. And during one such hilarious social media exchange, Reynolds revealed something pretty awesome about his wife: she's a boss. So much so that Blake Lively drove Ryan Reynolds to the hospital while she was in labor. I mean, you can't get any more fierce than that!
So, how did this big revelation come about, anyway? Well, to tell you the truth, it all started with Lively's new movie A Simple Favor. In the film, Lively plays a mysterious character by the name of Emily. The film, it seems, exists to answer one question: What happened to Emily?
The mystery of the character is so intriguing that even Reynolds is asking Lively what Emily's deal is. He tweeted his wife the following:
You can tell me. We're married. You once drove me to the hospital when you were giving birth. So... what the fuck happened to Emily?
So, let's take a giant step back for a second. Lively did WHAT while she was in labor? Yeah, she drove her husband to the hospital! That's the kind of thing a superhuman would do, right?
She and Reynolds must have nerves of steel. Either that, or the drive just wasn't that long or strenuous. Thankfully, they all turned out OK.
Anyway, after Reynolds tweeted that, Lively hit right back at him with some humor of her own:
Oh darling, of all the secrets I'm keeping from you, this should be the LEAST of your concerns... trust me.
See their hilarious Twitter exchange here:
This isn't the first time Lively and Reynolds have gone toe-to-toe over Lively's new film. Back in April, Lively's social media presence underwent a huge makeover. She deleted her entire Instagram account to spark some intrigue and interest around her new film, which is slated to release in early September.
And in cleaning out her Instagram, she unfollowed Reynolds in the process. Reynolds most definitely had something to say about it. In a May 2 interview with Australian radio show Smallzy's Surgery, Reynolds expressed his dismay at Lively unfollowing him:
I'm very sad about that. Definitely stinks. It's a terrible way to find out that I've been kicked out of the house, to be honest. Absolutely terrible. I don't know where rage like that comes from.
Funnily enough, the interviewer asked Reynolds what his kids would think about Lively's strange social media antics. Reynolds had a pretty funny response:
'Mommy unfollowed daddy on Instagram.' My child would just fart and then walk away.
Watch the conversation for yourself:
Lively and Reynolds have two daughters — James, who is 3, and Ines, who is just 1 year old. There's no doubt the kids will be in on the family jokes in the future!
New movies and tweets aside, Lively and Reynolds clearly have a passion for trolling each other. The couple married in 2012 and have been taking shots at each other ever since. Like that time Reynolds wished Lively a happy birthday with a photo of himself and her cropped out.
And when Lively trolled Reynolds for Father's Day on Twitter...
Happy Fathers Day!!! ...@vancityreynolds Since the day our baby was born, I've felt so strongly in my heart that you were most likely the father. #ILoveYouSoMuchItsSilly
How can you not love these two? They definitely have a talent for putting smiles on peoples' faces. Gotta love it!