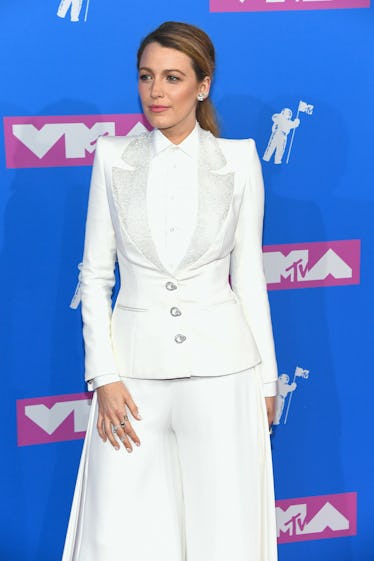 Blake Lively Had The Most Epic Clapback For A Hater Who Said She Needed A Stylist
Nicholas Hunt/Getty Images Entertainment/Getty Images
Screw Blair Waldorf and all of her stupid headbands. It was Blake Lively who set the boho-luxe style bar seriously high when she played the incomparable Serena Van der Woodsen on Gossip Girl. Like, we all wanted to be her, right? And 10 years later, the girl's apparently still got it. Because when an Instagram commenter tried to come for the 31-year-old actress' fashion game in the comment section of one of her recent Instagram posts, Lively wasted no time responding. Seriously, you guys, Blake Lively response to haters saying she needs a stylist is so epic, it's like our favorite early-aughts It Girl has suddenly been resurrected.
OK, so here's what happened. Lively posted a photo of herself on Insta, decked out in a tri-color plaid suit and coordinating tie. "I say this with so much love & respect for you babe," wrote a troll in the comment section beneath the image. "Please hire a stylist or fire the one you're currently with."
Um, I say this with very little love & respect babe... you are SO RUDE. I know, I know — my comeback skills need some work. But not Lively's, because girlfriend legit brought her A-game by firing back with a biting take-down that was also somehow injected with a splash of perfectly-placed, self-deprecating humor: "Thank you for the tips, sir," she responded. "Alas, I've tried to fire @blakelively so many times. But the b*tch just keeps coming back. She won't leave me alone."
What a queen! Her response is just so perfect, right? Not that I would ever expect anything less from this free-thinking goddess.
For the record, I actually love Lively's bold look and think she totally rocked it. I also happen to think it's pretty cool that she chooses to dress herself, when I'm pretty sure she's got stylists falling all over themselves for a chance to work with her. Earlier this year, she explained to WWD why she hasn't hired one.
"Probably because I have control issues and a big ego," she joked. "I just like it. I love design and I love fashion and it's a way to be creative. In my job I get to be creative, but it's over a period of time and so many other people are involved, whereas this is a beginning, middle and end, and I get to be creative and there's an end date in the near future. It's the same reason why I like doing my friends' hair and makeup or cooking — you get to be creative and finish it. Whereas with my job you do it and then two years later it's finished. It probably goes back to the control issues; it's like, 'OK I did it, I completed it, it's done!'"
And she's pretty good at it, too. Check out this stunner of a flowy, white power suit the A Simple Favor star strolled down the carpet in at the 2018 VMAs recently:
This is such a hard look to pull off, you guys, but girlfriend is a total freaking boss here, so mad props.