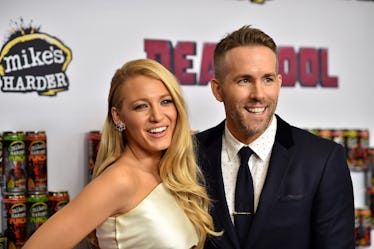 Blake Lively Trolled Ryan Reynolds So Hard At His Own Event Because That's How She Rolls
Dimitrios Kambouris/Getty Images Entertainment/Getty Images
Blake Lively and Ryan Reynolds: You know them, you love them, you want to be like them. They are the ultimate celeb power couple — but not just because they are absurdly talented. They're witty, they prank each other, and they know how to roast one another in a playful (yet also somehow loving?) way. Let's face it: Blake Lively and Ryan Reynolds are relationship goals. And believe me, you'll want to see Blake Lively Instagram trolling Ryan Reynolds during an event he hosted, because it's hilarious AF and also beyond relatable.
On Tuesday, Aug. 7, Blake Lively attended husband Ryan Reynolds' event for his company, Aviation Gin (because why not add "entrepreneur" onto the list of things this man can do?). She looked like a damn dream, stunning in a white dress and stilettos — most likely making her husband thank his lucky stars for having such a smoke show of a wife. Ryan looked handsome too, but that's not what we're here to talk about (sorry, Ryan).
During the event, Lively took to her Instagram Story to upload a selfie she took alongside some friends. The photo is super cute, but it's the caption that will make you literally laugh out loud. She wrote, "The look on our faces = when you all go to a party just for the free food…"
HOW HARD CAN YOU RELATE TO BLAKE LIVELY RIGHT NOW?
That's right. That's Blake Lively implying that she went to RyRy's Aviation Gin even to support him, but to enjoy the free food. I mean, I guess she could do both at the same time, but let's be real: It's all about the free food. All hail Blake Lively, y'all.
But, despite how epically these two can mess with each other, it's also pretty apparent just how in love they are, and have no issues talking about that candidly, either.
In an interview with AsiaOne, Lively revealed the exact moment when she knew that Reynolds was the one. She said:
He's my best friend. I just knew the first time I met him that we could be best friends for the rest of our lives, whether there was chemistry or not. I knew right away that we would be together forever, and that he would be mine. That was it.
She also told the publication that Reynolds is "an amazing, amazing father," adding, "I am lucky because he is my best friend and that has continued through parenthood. I was lucky to get a good one."
BRB, just gotta go bawl my eyes out for a hot minute.
And if you're wondering just how the hell you can make a marriage with two super-famous celebs successfully work, it's apparently a conscious effort on both ends to ensure that their marriage — and their family — is placed above all.
"We are very conscious of being very present as parents," Reynolds said in an interview with People. "I come from a big family and so does Blake, and we want to create a very warm and happy environment for our children."
He also admits that, despite his online persona, he's "more sentimental" than his Instagram account suggests:
I'm a little more sentimental. I can lay it on pretty thick. I've always been sentimental, since I was a kid. Having a family means that you stop worrying about a lot of stupid things and you start focusing on the present.
Welp, my heart just tripled in size.
Here's to you, Blake and Ryan. May you continue to love (and troll the hell out of) one another for many years to come.
God bless ya.