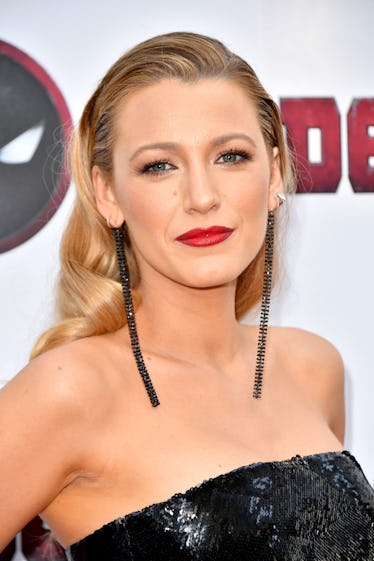 Blake Lively Used An Amazing Manicure To Shout Out Ryan Reynolds & You Need To See It
Michael Loccisano/Getty Images Entertainment/Getty Images
I'm not a huge fan of superhero movies (exceptions: Black Panther, Wonder Woman), but by golly am I a fan of nail art (two apparent non-sequiturs, but stay with me here). Word on the street is that there's a new superhero movie, but I was too distracted by Blake Lively's Deadpool 2 nails to notice.
Let me explain.
On Monday, the 30-year-old joined husband and Deadpool star, Ryan Reynolds, on the red carpet for the movie's premiere. The blonde bombshell looked equal parts radiant and seductive in a sequined black gown with a silky red sash tied around the waist (the dress, according to a report from Harper's Bazaar, is custom Brandon Maxwell). Lively's sartorial color scheme was undoubtedly an intentional homage to the flick (apparently this so-called Deadpool character wears a red and black suit virtually identical to the shades on Lively's dress).
But it's Lively's manicure that really puts the cherry on top of her dedication to the theme. From afar, the star's nails look cool and geometric, but upon closer inspection, it's clear that there's a lot more going on.
Celebrity nail artist, Elle — who so cleverly goes by the Instagram handle, @enamelle — posted a photo of a beaming Lively rocking a bejeweled clutch and an equally dazzling manicure.
The nail look is comprised of a black polish polish base plus oxblood and ivory polishes, topped off with a bit of bedazzling. In case you're as clued-out to the whole superhero thing as I am, let it be known that the design you're seeing on her left ring finger is a teeny tiny Deadpool face (talk about next-level talent!). Despite my relative disinterest in the movie, I would don this mani in a heartbeat.
So... could I? Although most of us don't have access to an appointment with the genius behind the design, the nail maven did reveal her paints via an Instagram caption. The good news is that you can snag most of the polish shades at your local drugstore, because this masterpiece was composed entirely of shades from Essie.
Specifically (pictured from left to right, above) Elle used Essie's iconic Licorice ($9; essie.com) shade for the inky base. The slightly sparkly burgundy is Essie's Toggle To The Top ($9; amazon.com). The white shade is yet-to-launch in June, but it's from the Essie Gel Couture line (in the meantime, try Essie Blanc as an alternative). And those bedazzlements aren't just any old jewels; they're Swarvoski crystals in size 5 AB. (Side note, you can snag a bag of the bling for under 10 bucks.) To hold all the intricate pieces together, Elle sealed the look with the Essie Speed Setter Quick Dry Top Coat ($15; essie.com). So, if you have a super-steady hand and a whole lot of love for Blake Lively and/or Deadpool, feel free to take inspiration from this look.
This isn't the first time Elle has created a mini masterpiece of Blake Lively's nails; a week prior to the Deadpool mani, the guru dressed the actress's talons for the Met Gala. In keeping with medieval style gown Lively wore to the event, Elle created a nail look that mimicked stained glass: a red chrome base garnished with cathedral-worthy crystals. Believe it or not, Elle used five dollar press-on nails from Kiss to create the chrome finish. The colorful crystals were, unsurprisingly, from Swarvoski.
I'm excited to see which outrageous nail looks the actress and her manicurist whip up next (perhaps something aptly chilling for the premiere of the actress's upcoming film, A Simple Favor?). In the meantime, I'll be testing my patience and dexterity with a minuscule nail brush, mini gemstones, and perhaps even a pack of press-on nails.