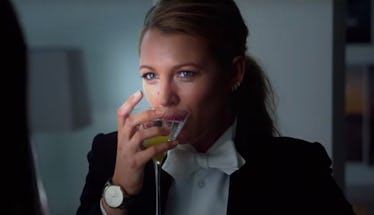 The 'A Simple Favor' Trailer Explains So Much About Blake Lively's Bizarre New Instagram
Lionsgate
Blake Lively chose to ring in May in a super bizarre way: She deleted everything from her Instagram page and changed her bio to "What happened to Emily?..." After much speculation — and plenty of guessing about why Lively now only follows 28 people, all named Emily Nelson — the A Simple Favor trailer dropped on May 2, and it explains so much about the star's social media purge. If your name is Emily Nelson, look out, because Lively's new movie is going to leave you totally freaked out.
Fans first noticed that Lively cleaned out her Instagram on April 30, but many thought the cleanse was the work of hackers, not a promotional stunt for A Simple Favor. Lively's co-star Anna Kendrick didn't wipe her social media, so why would Lively? But when Lively started following pretty much every Emily Nelson that exists on Instagram, fans put the pieces together: In A Simple Favor, Lively plays a woman named — drum roll, please — Emily Nelson who mysteriously goes missing. As the situation surrounding Emily's disappearance gets shadier and shadier, her mommy-blogger best friend (Kendrick) attempts to figure out what happened, but she quickly begins questioning whether Emily is the person she's known all these years.
Based on the trailer, it seems like the answer to that question is a resounding, "No." "I do consider Emily my best friend," Kendrick's character, Stephanie, says at the beginning of the trailer. "She's this wonderful, elegant person." Stephanie's words are intercut with ominous-seeming clips of Emily making martinis and kissing her husband (Henry Golding), so from the very beginning, the trailer casts doubt on how much Stephanie really knows about her "best friend." Plus, that French music is just downright eerie. I don't know French, but I have to imagine that the lyrics say something like, "Stephanie, you are so, so wrong. Your friend is a total mystery."
"Everyone has a dark side. Some of us are better at hiding it than others," Stephanie says in the trailer, and it definitely seems like Emily has fully tapped into hers. At one point, Emily — wearing a bomb three-piece suit — cocks a gun, and then we see a huge car crash, flashing police lights, a very stressed out Stephanie, and a sly-looking Emily in disguise as a redhead. Something serious goes down in this movie, and I absolutely cannot wait to find out what it is.
Sure, the main question revolves around what happened to Emily, but I have another question. The movie is called A Simple Favor, and the official Twitter account says, "It all started with a simple favor," so what's the favor?
Martinis seem to be a huge part of this movie, so maybe someone asked Emily give a martini lesson and she got pulled into some kind of secret spy ring that loves gin? Or maybe she's a liquor distributor who's gotten involved with the mob? My theories may sound far-fetched, but we all know that way more ridiculous things have happened in films.
As if you weren't hyped enough for A Simple Favor, the movie boasts an all-star cast — and that's not including the amazing Lively and Kendrick. A Simple Favor also stars Andrew Rannells, Linda Cardellini, Rupert Friend, Jean Smart, and more. Plus, it's written and directed by the one and only Paul Feig, the man behind hits like The Office, Bridesmaids, and Spy (and plenty of other movies and shows you love). A Simple Favor may seem like a pure thriller, but with Feig behind the wheel, you know it's going to be at least a little bit funny.
A Simple Favor premieres in theaters on September 14, 2018. I can't believe I'm actually wishing for summer to be over, yet here I am.