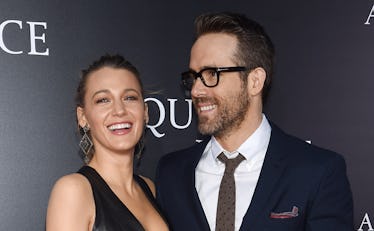 Blake Lively's Flirtatious Birthday Message To Ryan Reynolds Has The Greatest Hidden Message
Jamie McCarthy/Getty Images Entertainment/Getty Images
It's the most wonderful time of the year, guys! It's Ryan Reynolds' birthday! And if you follow the star at all, you know Reynolds' birthday calls for a hilarious post from his wife, Blake Lively. The two are known for playfully trolling each other on Instagram on the regular, particularly during special occasions. However, this year, Lively went a different route. Blake Lively's post for Ryan Reynold's birthday was actually a sweet shout-out to her husband wrapped up in a cool reminder to vote. Ugh, these two are just the best.
Reynolds turned 42 on Tuesday, Oct. 23, which should have been prime trolling time for Lively. In the past, Reynolds and Lively have used their birthdays as an opportunity to make fun of each other, mainly by pretending they aren't madly in love with one another (which they clearly are). Last year, for her husband's birthday, Lively shared a hilarious photo of Reynolds hanging out with another famous Ryan, a.k.a Ryan Gosling. However, she strategically cropped her hubby out of it. Instead, she posted a shiny photo of just Gosling with a sliver of Reynolds' face showing on the side with the caption, "Happy Birthday, baby."
Listen, a lesser man would not love their wife calling Ryan Gosling "baby," but that's the magic of this relationship. Also, to be fair, Lively crafted the post as payback for Reynold's birthday message to her, which was just a picture of himself and the caption, "Happy Birthday to my amazing wife."
This year, Lively opted for a new approach and used Reynolds' birthday as a chance to sincerely shout out the love of her life and use the post as an opportunity to encourage fans to vote. She posted a picture of herself and Reynolds standing in front of birthday balloons holding two absentee ballot envelopes. She captioned the picture, "Happy Birthday to 2018's Sexiest Voter Alive @vancityreynolds #justvoted 📬🎉#absenteeballot party!"
I know this is an amazing call to action for fans and a great reminder that the 2018 midterm elections are rapidly approaching, but can we take a few seconds to just look at this man's impeccable chin stubble and the magical witchcraft that is Blake Lively's perfect teeth...?
K. Thank you.
In just one hour, Lively's post garnered nearly 1.5 million likes. That's major reach if we're talking about motivating people to vote. Perhaps the absentee ballot is for California while the two celebrities and their children live in Bedford, New York.
Way back in 2012, People magazine commented on their quaint country life and the decision to escape the paparazzi-hub of Hollywood. At the time, a source said they chose "a very traditional kind of house for people who work in Hollywood. They wanted a house with character, not a trendy, modern house. Their place is very homey. [Lively] is very domestic."
Reynold's also once told People, "We don't lead a wild and crazy life."
Maybe it's not wild and crazy, but it sure looks perfect from here. Happy birthday, Ryan! Everyone else — vote!