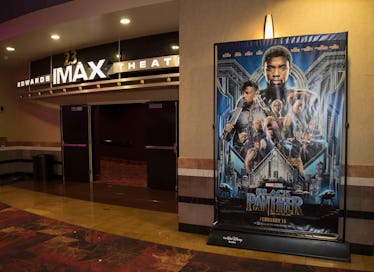 Black Panther's Record Profits Are Going To A Cause & It's So Appropriate
Bob Levey/Getty Images Entertainment/Getty Images
Black Panther is a huge hit. I saw the film opening weekend and it takes everything I have not to keep going back to see it again and again (and again). I'm not the only one. Since Black Panther premiered on Feb. 16, it has broken so many box office records, and raked in around $700 million worldwide. And now, some of those Black Panther profits are being donated to STEM projects for kids, and it's just so damn perfect it melts my heart.
It was announced on Monday, Feb. 26 that Disney has decided to give back and donate $1 million of the profits they make on Black Panther to the Boys & Girls Clubs of America, specifically to support their youth STEM — science, technology, engineering, and math — programs, according to CNN. The grant will go towards establishing new STEM centers to give kids hands on access to technology, with a focus on communities in Atlanta, Baltimore, Chicago, New York, Philadelphia and Washington.
The Boys & Girls Clubs of America helps children, especially those from lower income families, with educational tools, sports, guidance, and an array of other programs to support their wellbeing and advancement. Their mission is to "enable all young people, especially those who need us most, to reach their full potential as productive, caring, responsible citizens."
Donating to the Boys & Girls Clubs on its own is an amazing cause for Disney to support. But, the fact that the money is going to their STEM programs is extra special, given the role technology plays in Black Panther. When I heard the news, I didn't know whether to cheer or cry. It's precious.
In a statement, Disney CEO Bob Iger explained that after seeing how children reacted to Black Panther, he thought that it was only fitting to help advance STEM programs for kids, according to CNN. He said,
[It was] thrilling to see how inspired young audiences were by the spectacular technology in the film. It's fitting that we show our appreciation by helping advance STEM programs for youth, especially in underserved areas of the country, to give them the knowledge and tools to build the future they want.
Black Panther's fictional African country of Wakanda boasts technological advances that outshine the rest of the world tenfold. But that's not the only reason why it's so fitting that the money go to STEM.
The real reason, and the reason I am so very excited about the news, is because of breakout character Shuri, played by Letitia Wright. Shuri is the princess of Wakanda, but more importantly a tech genius. At just 16 years old, Shuri is a top-notch engineer in charge of all the technology and technological advancements of Wakanda. She makes all the weapons and even her brother's (the Black Panther) awesome superhero suit. I don't want to give too much away, for anyone who has yet to see the film (but seriously, what are you even doing? go) but Shuri kicks *ss, takes names and maybe even outshines her brother.
In an interview with The Hollywood Reporter on Feb. 16, Wright talked about her role in Black Panther and how important it was for her to play a teen girl who really loves science and technology, and how she hopes it can inspire kids watching. She said,
[The role] can spark the brain of another kid that loves technology and loves science and lets them see that that's really cool and encourage them to create the next gadget that's going to help cure a disease or something.
She is witty, sarcastic, brave, and whip smart. But more importantly, her ingenuity and unbridled passion for technology really serves as an example to children. I know she is my role model now.
Black Panther is so amazing for so many reasons, but to see that Disney and Marvel Studios understand what characters can do and who they can inspire is also very important. Now more kids can have the tools to aspire to be just like Shuri. Wakanda forever.