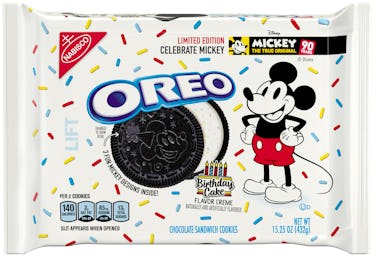 Celebrate Mickey Mouse's 90th Anniversary With These Birthday Cake-Flavored Oreos
Courtesy of Oreo
This is a big year for Mickey Mouse, you guys. The beloved Disney character will be celebrating his 90th anniversary in November 2018, and he's kicking off the festivities with a delicious dessert. No, I'm not talking about birthday cake; I'm talking about Birthday Cake-flavored Oreos. Yep, they exist — and you'll be able to snack on them in honor of Mickey's big month. In fact, Birthday Cake Oreos for Mickey Mouse's 90th anniversary will be available before you know it, so make room in your pantry.
More specifically, Birthday Cake Oreos in honor of Mickey Mouse will officially hit the shelves nationwide on Monday, Sept. 24, according to Oreo. In the meantime, start inflating balloons and sprinkling confetti all over your counter. You'll want to make sure your kitchen is birthday-ready when you break out the Birthday Cake-flavored Oreos for Mickey's celebration. (If you want to go all out, fill some champagne glasses with milk. Then, you'll be able to dip in style.)
I know Mickey Mouse's actual anniversary isn't until November, but you shouldn't wait too long to buy the Birthday Cake Oreos. The celebratory snack will only be available for a limited time, which means you should probably stock up while you can (especially if you like birthday cake-flavored everything).
TBH, I love birthday cake-flavored snacks. That's why I'm so dang excited to try the limited-edition Birthday Cake Oreos. In case you're wondering, the festive cookies feature birthday cake-flavored creme that's encased by two classic Oreo wafers. Based off the product's package, the creme is speckled with rainbow dots that seemingly represent birthday cake sprinkles. How cute, right? Heck, the package itself is even covered in colorful sprinkles and a drawing of vintage Mickey Mouse, which is totally fitting for the character's biggest anniversary yet.
The festive artwork doesn't stop on the package, though. According to Oreo, there are a total of three birthday designs featured on the limited-edition Oreo wafers. Apparently, one design features Mickey himself (which you can see on the product's package), while others are described as "festive." The other two designs celebrate Mickey's b-day with a party horn on package and a big "90" surrounded by hearts on the other, per Oreo. The design that's shown on the Oreo package shows an old-fashioned version of Micky smiling and wearing a birthday hat. If you look closely enough, you can see teeny bits of confetti swirling around his head. Needless to say, it'd be easy to throw Mickey a birthday party with a plate full of these designs.
Birthday Cake-flavored creme isn't the only festive filling that Oreo has been experimenting with lately. In fact, the company put actual popping candy in the filling of a recent flavor, and it tasted unworldly (in the best way). The flavor is called Cherry Cola, and it won the "My Oreo Creation" contest in August 2018. The cookie features two classic Oreo wafers and Cherry Cola-flavored creme that literally pops in your mouth. Oreo fans chose this selection over two other Oreo flavor finalists that included Piña Colada and Kettle Corn. As someone who tried all three, I can assure you that they're all delicious.
Still, I think Birthday Cake Oreos are going to steal the spotlight. Grab a package of the limited-edition cookies and celebrate Mickey's birthday with your friends.