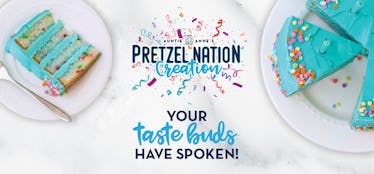 Birthday Cake-Flavored Pretzels Are Coming To Auntie Anne's & I'm So Ready
Auntie Anne's
If there's one thing I like better than a slice of sweet birthday cake, it's a fresh Auntie Anne's pretzel. In fact, if you brought me a plate full of soft pretzels instead of cupcakes on my big day, I would be thrilled. (I was born in November, so please take note.) If you really want to impress me, spread some sugar on those knots — because there's nothing better than a sweet and salty dessert. Thankfully, Auntie Anne's is releasing a pretzel that tastes like birthday cake, and it'll take celebrations to the next level. I'm not kidding: Birthday cake-flavored Auntie Anne's pretzels are actually coming, and I cannot wait to try them.
Now, you might be wondering how such a sugary pretzel came into existence. Was is a birthday wish that came true, or a dessert recipe gone wrong? Surprisingly, it was neither. The Birthday Cake Pretzel was announced after curious customers voted for it in Auntie Anne's Pretzel Nation Creation Contest in honor of the company's 30th birthday. The online contest began on June 19, 2018, and lasted exactly one week. If you voted, you'd know that Auntie Anne's was searching for a new birthday-inspired flavor to temporarily add to its menu — and it looks like Birthday Cake literally took the cake. According to a press release, the fitting flavor got 79,641 votes, leaving Caramel Apple Crème Brûlée in second place with a whopping 38,154 votes. As someone who loves cake batter, I'm pleased with the winner.
When you think about it, celebrating Auntie Anne's birthday with the release of a Birthday Cake Pretzel is ideal. Meredith Wenz, Auntie Anne's director of marketing, talked about the flavor in a press release — and it sounds like she agrees. She said, "The second annual Pretzel Nation Creation competition has been the icing on the cake for our 30th birthday celebration. It's fitting that our fans marked the occasion by choosing the Birthday Cake Pretzel. It's going to be a pretzel unlike any other, and I invite all of you to stop by your local Auntie Anne's to try it this fall."
Ah, yes. I hate to break it to you, but the Birthday Cake Pretzel won't be available until fall 2018. The company hasn't announced a specific release month, but at least they're giving us a reason to look forward to chilly weather again. I know for a fact that I'll be stopping by Auntie Anne's for a Birthday Cake Pretzel to accompany my PSL. They sound like the perfect pair, don't they?
If you aren't into birthday cake-flavored snacks, then maybe you would have liked some of the other pretzel choices better. Other flavors in Auntie Anne's birthday contest include Red Velvet Cheesecake (38,154 votes), Cookies & Cream (31,245 votes), Tiramisu (16,542 votes), Chocolate Coconut (16,191 votes), Pineapple Upside Down Cake (15,121 votes), Chocolate Covered Cherry (9,314 votes), Cotton Candy (8,748 votes), and 7,211 votes (7,211 votes). TBH, they all sound delicious, and I'd love it if Auntie Anne's could add each and every one of them to their menu. In the meantime, we'll have to accept (and enjoy) the upcoming Birthday Cake flavor.
This isn't the first time Auntie Anne's added a new pretzel to the menu, though. Back in fall 2017, the company released a new flavor that customers also voted on: Sriracha. Yup, Sriracha Pretzels were available at Auntie Anne's for a limited time, and they were delicious. Anyone who loves a spicy kick in their food probably adored them, and I miss them dearly.
Even so, I'm super excited to try the company's Birthday Cake Pretzel when it comes out in the fall. I'm also pumped that the flavor will be out just in time for my birthday. You better believe I'll be blowing out my candles atop a stack of fresh Auntie Anne's this year.