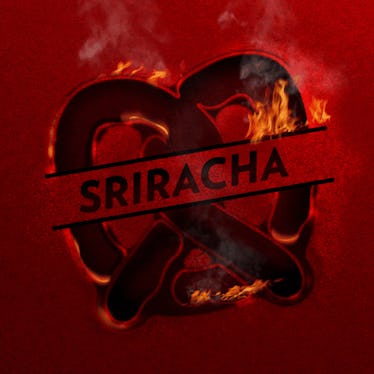 Sriracha-Flavored Pretzels Are At Auntie Anne's & It's All Because Of You, So Thanks
Auntie Anne's
It's definitely getting hot at Auntie Anne's. In the wake of the Pretzel Nation Creation Contest, a spicy new flavor just hit the shelves, so it's time to reward yourself with one... or seven. "Are Sriracha-flavored Auntie Anne's Pretzels available," you ask? Heck yes they are, and it's all thanks to your hard work.
You hungry customers made this tasty treat a reality. More than 1.3 million fan votes poured in, ultimately proving that Sriracha is the most desired pretzel flavor. Thanks to this overwhelming response, a new snack is officially on the market.
"As Pretzel Nation Creation confirmed, Auntie Anne's fans are intensely passionate about their pretzels," Carol Pasquariello, vice president of marketing for Auntie Anne's, said in a statement. "We loved letting them choose our next flavor and can't wait for the Sriracha Pretzel to join our menu for a limited time."
To up the ante, pretzel nuggets have also been added to the mix for a limited time. What is better than that? It's time to have your pretzel and eat it, too.
"After months of research and development, countless flavor tests and a few beads of sweat, we are very excited to introduce the new Sriracha Pretzel and Pretzel Nuggets," Pasquariello further stated. "Our fans are clearly smart, because they picked a delicious flavor. With limited quantities available, be sure to try them before they're gone."
The contest began in June and really got everyone thinking. Fans brought brought roughly 1,200 flavors to the table via social media. From there, the top 10 flavors were narrowed down. When all was said and done, Sriracha upstaged everyone with nearly 200,000 more votes than the second-place winner, S'mores (quite the difference in flavor). Judging from the results, it appears hot flavors were more in demand than the sweet ones.
Have a look at the Pretzel Nation Creation Contest results.
· Sriracha: 638,759 votes
· S'mores: 449,491 votes
· Taco: 92,693 votes
· Buffalo Wings: 90,861 votes
· Maple Brown Sugar: 47,085 votes
· Korean BBQ: 25,678 votes
· Apple Pie: 20,855 votes
· Chocolate Cherry: 9,522 votes
· Dill Pickle: 7,907 votes
· Pink Lemonade: 3,578 votes
This is certainly one way to get a hot and spicy fix. "While supplies last, Sriracha will join the Auntie Anne's menu featuring a variety of flavors, including Pepperoni, Cinnamon Sugar, Sweet Almond and more," a press release from the company says.
Pretzels aren't the only way to get a spicy, Sriracha fix. McDonald's Kale and Sriracha Mac Sauce Sandwich was once available in select stores. But now, everyone's being treated to the spicy goodness with the Signature Sriracha Burger hitting stores nationwide. To make a spicy situation even hotter, McDonald's also offers Sriracha Mac Sauce. Imagine having all of these treats in one day? You'll need to chug plenty of bottles of Poland Spring.
But if spice doesn't faze you, there are plenty of ways Sriracha can take your meals to the next level. Blow your friends away by preparing a brunch of Sriracha Eggs Benedict or Eggs and Sriracha Quiche. Hosting a dinner? Spicy Garlic Sriracha Shrimp and Spicy Chickpea Burgers with Sriracha Mayo are always huge crowd pleasers. Thanks to a myriad of delicious ways to eat Sriracha, you are destined to become the favorite chef in your food group.
Since you're pumped for this news, the next time you're at a mall or a game, make sure you take a bite out of Auntie Anne's new pretzel. It's time to make things hot, hot, hot.
Check out the entire Gen Why series and other videos on Facebook and the Bustle app across Apple TV, Roku, and Amazon Fire TV.