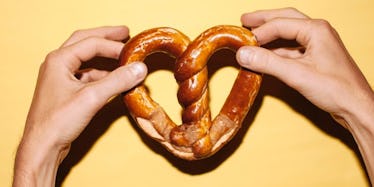 Sriracha Pretzels Might Be Sold At Auntie Anne's, But You Need To Make It Happen
Dina Lun
It's no secret that Auntie Anne's has mastered the recipe for delicious, doughy pretzels, but it's recently taken its menu to the next level by letting customers vote on the next go-to flavor.
That's right: Auntie Anne's "Pretzel Nation Creation" contest lets you vote on the next pretzel flavor, and the options are almost too good to be true. One flavor on the ballot that I'm partial to is "Sriracha."
If you guys knew me (I'm assuming many of you don't), you'd know that I douse pretty much every single food item with Sriracha. Therefore, if Auntie Anne's released a Sriracha-flavored pretzel, I'd probably eat one for breakfast, lunch, and dinner... but I digress.
More pretzel flavor options that customers can vote for include s'mores, buffalo wings, maple brown sugar, apple pie, dill pickle, chocolate cherry, taco, pink lemonade, and Korean BBQ.
I know, all of these choices sound delicious. However, Sriracha is a tough act to follow, my friends.
In fact, Sriracha is currently in the lead right now (thank God). If you look at Auntie Anne's website, you can take a look at the number of votes each flavor has gotten so far, and Sriracha is winning with 387,857 votes. The runner up is s'mores (325,180), followed by buffalo wings (66,414).
It's nice to know I'm not the only person obsessing over Sriracha.
I know you might be wondering, "How did Auntie Anne's even come up with these new flavor options in the first place?" Well, they didn't... you did.
Last month, Auntie Anne's asked customers to submit flavor ideas for a new pretzel, and they received more than 1,200 suggestions, Delish reports. Options included in the "Pretzel Nation Creation" contest were chosen from the batch of flavor ideas received in June.
Again, I applaud everyone who voted for Sriracha thus far.
As of Monday, July 24, pretzel lovers have exactly six days to submit their vote for Auntie Anne's new pretzel flavor.
So, if you love me, please vote for Sriracha.