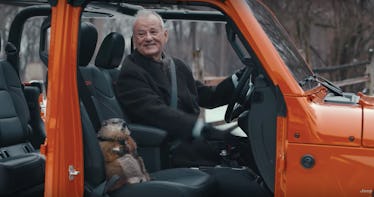 Watch Bill Murray Recreate The Magic Of 'Groundhog Day' In This Jeep Super Bowl Ad
The Super Bowl promises to be as exciting as ever this year, with a lineup of spectacular half-time performances and entertaining commercials on top of the big game. You especially won't want to miss Bill Murray's Groundhog Day Super Bowl commercial for Jeep, because it's a nostalgic delight for fans of the movie. Check out the magical video to get you pumped for game day.
The new Super Bowl commercial for Jeep was released Sunday, Feb. 2 ahead of the face-off between the Kansas City Chiefs and the San Francisco 49ers. The Super Bowl also happens to fall on Groundhog Day this year, so in the video, Murray reprises his role in the 1993 classic film, Groundhog Day, as TV meteorologist Phil Connors.
The ad begins with Murray waking up to find he is trapped repeating the same day over and over again just like in the film, as his alarm clock plays "I Got You Babe" by Sonny and Cher. This day, however, is about to be different — after dodging insurance salesman Ned Ryerson in town, he spots a Jeep Gladiator. Grabbing the iconic weather-predicting groundhog Punxsutawney Phil, the two hit the road and go off on a series of different adventures each day. They even go bike riding and take trips to the arcade. "No day is the same in a Jeep Gladiator," the ad displays as Murray and the groundhog watch fireworks from the back of the truck.
Fans of Groundhog Day will love the short and sweet commercial, which highlights Murray's improv skills since the ad was essentially unscripted. It's also Murray's first-ever appearance in a national television commercial, according to Jeep.
There are plenty more Super Bowl commercials to look forward to. The internet is absolutely buzzing about Google's Super Bowl commercial. The ad, which is called "Loretta," tells the story of an 85-year-old man who uses Google Assistant to remember his late wife, Loretta. The narrator of the ad is a grandpa of a Google employee, whose story was the source of inspiration for "Loretta." It's a heartwarming tale that may just have you sobbing by the end.
You can catch the exciting new commercials live during the Super Bowl, which airs on Sunday, Feb. 2. And you can bet the star-studded ads will be all over your TV screen for weeks to come after their premieres.