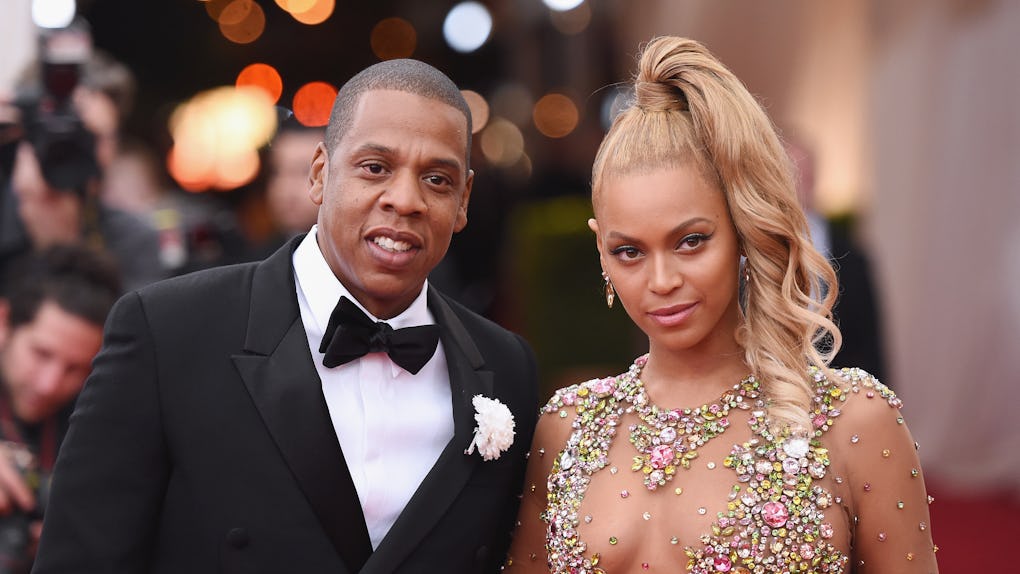 Mike Coppola/Getty Images Entertainment/Getty Images
Beyonce's Quotes About JAY-Z Will Remind You Why They're Couple Goals
Few celebrity relationships have gone through public ups and downs as intense as JAY-Z and Queen B. These two have weathered some seriously catastrophic storms, and yet their love for one another is still so apparent. Beyonce's quotes about JAY-Z make it so clear that through thick and thin, they're a power couple who's here to stay. Considering how successful they've been at building such a power-couple brand, not to mention at building their beautiful family, it's easy to see why they're in it for the long-haul.
Exactly when these two met in the flesh is up for debate, but based on a 2008 interview with Seventeen, Beyoncé told the magazine she "was 18 when we first met, 19 when we first started dating." So that would mean their friendship got started at some point between 1999 and 2000. However, it wasn't until the release of JAY-Z's single "'03 Bonnie and Clyde" in 2002 that the rumors of their romance started spreading like wildfire. They didn't publicly confirm they were actually dating until much later. It's crazy how fast time flies, and roughly 18 years after they met, they're married with three kids and still making huge strides in their careers (which at this point have already reached legendary proportions). Throughout the course of their dynamic partnership, Beyoncé has said some pretty adorable things about her boo. Here are some of my faves.
For example, that one time she gushed to Oprah about how they were actually really good friends long before things took a romantic turn.
"We were friends first for a year and a half before we went on any dates," Beyoncé told Oprah in an interview on OWN. "We were on the phone for a year and a half, and that foundation is so important for a relationship. Just to have someone who you just like is so important, and someone [who] is honest."
Is it just me, or is imagining a 19-year-old Beyoncé lying on her bed casually chatting it up with JAY-Z just too much cuteness to take? It's hard not to wonder if there were sparks flying from the start, or if it really was such a slow build.
She also confided in Oprah about what a profound impact JAY-Z has had on who she is.
"I would not be the woman I am if I did not go home to that man," Beyoncé told Oprah in the same interview. "It just gives me such a foundation. [He's helped me] on so many levels."
Awww, and isn't that supposed to be the marker of truly great relationships? Having a partner who is supportive and actively contributes to your personal growth? I think, so!
And let's not forget the time she declared her love for JAY-Z while she was pregnant with baby Blue.
"Jay and I stay a team, right now we are really connected and really are communicating well and completely understand each other and support each other," said Beyoncé in her 2013 autobiographical film Life Is But a Dream, which originally aired on HBO. "This baby has made me love him more than I ever thought I could love another human being. It's just that I love him so much that we almost feel like one. I don't know how to describe it."
I'm dead. IMHO, this has got to be one of the most sincere declarations of love, ever. And the fact they were able to push through the devastation of her first pregnancy (that ended in a miscarriage) and come out the other side even stronger goes to show how strong they really are.
It would be a bit suss to not mention the enormous elephant in the room: the fact that JAY-Z did end up cheating on Beyoncé later down the line. And yet, I think it's so important to acknowledge that even the most seemingly perfect relationships go through intense hardships. It doesn't mean that two people don't love each other, but rather that life is really hard, and sometimes it's impossible for these hardships not to take their toll on a relationship in some shape or form. But most importantly, I think Beyoncé and JAY-Z are a great example of a couple that has made it work in spite of these challenges. Let's hope they continue doing so for years to come.
Check out the "Best of Elite Daily" stream in the Bustle App for more stories just like this!