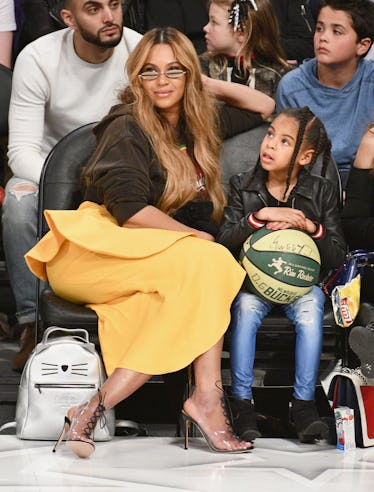 Beyoncé Says It's "Vegan Time," So Here's How You Can Eat Like Queen Bey
Allen Berezovsky/Getty Images Entertainment/Getty Images
Beyoncé decided to go vegan right before Coachella, so I decided to go vegan right before Coachella. JK, I'm not quite ready to part with my beloved meats and cheeses just yet, but Queen Bey sure is. Over the weekend, the "Hold Up" singer shared an Instagram of her and her dancers rehearsing ahead of the April music festival, and in the caption, Bey declared that it is now officially "Vegan Time!!" Cue me and the rest of the Beyoncé stans in the world looking up Beyoncé's favorite vegan foods to figure out how to eat like a queen for the next month.
If you've been following (or, more accurately, worshipping) Beyoncé for a while now, then you probably know this is far from the first time the singer has gone vegan. According to The New York Times, she and JAY-Z embarked on a 22-day vegan challenge together for the first time back in December 2013, when they'd just become partners in a vegan meal delivery service created by their trainer and life coach Marco Borges. That service, called 22 Days Nutrition, quickly took off in popularity after getting the Bey-and-JAY seal of approval, and now, the couple regularly returns to this same 22-day vegan challenge.
In a 2015 interview with People, Borges explained why the power couple loves this program so much, and why they keep coming back to it:
They walked away with a greater understanding of the powerful benefits of plant-based nutrition. They were getting people saying, "Your skin has this glow." And who doesn't like being told they look awesome?
But it's not just your appearance that can change. "[Vegan] foods typically promote good digestion and detoxification, efficiently nourishing and eliminating toxins from the body," says Paula Simpson, a holistic nutritionist, biochemist, and co-founder of Zea Skin Solutions. These benefits, she tells Elite Daily, not only make you look great on the outside, but they make you feel great on the inside, too.
Now, I would tell you to go for the full Beyoncé experience and try 22 Days Nutrition's actual 22-day meal plan, but unless you've got over $600 to shell out at the moment, you might need something a bit more affordable to get you started. Trust me, you don't have to be as rich as Beyoncé to eat like Beyoncé. Here are a few of her favorite vegan foods, and ways you can replicate them at home.