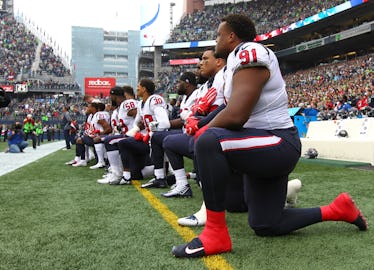 People Can't Stop Talking About This Viral Defense Of NFL Players' Protests
Jonathan Ferrey/Getty Images Sport/Getty Images
Though it's been more than a few NFL seasons since players started taking a knee during the national anthem, it seems like the controversy surrounding the practice only gets more intense with time. When President Donald Trump isn't viciously tweeting about the protests, fans and other groups are often busy slamming them on social media. However, Beto O'Rourke's comment about NFL players' protests is taking a different stance on all the outrage and it's blowing up the internet.
O'Rourke, a Texas Democrat running to replace Ted Cruz in the U.S. Senate, was asked during a town hall meeting in Houston on Aug. 10 if he feels the national anthem protests are disrespecting the country and military veterans. He started off by praising the question and acknowledging the differences of opinion, before going into a passionate defense of player's rights to exercise the First Amendment. He said, per Business Insider:
Peaceful non-violent protests including taking a knee at a football game to point out that black men, unarmed, black teenagers, unarmed and black children, unarmed, are being killed at a frightening level right now including by members of law enforcement without accountability and without justice. And this problem – as grave as it is – is not going to fix itself ... And they're frustrated, frankly, with people like me and those in positions of public trust and power, who have been unable to resolve this or bring justice for what has been done and to stop it from continuing to happen in this country.
Non-violently, peacefully, while the eyes of this country are watching these games, they take a knee to bring our attention and our focus to this problem to ensure that we fix it. That is why they are doing it. And I can think of nothing more American than to peacefully stand up, or take a knee, for your rights, any time, anywhere, in any place.
And just like that: O'Rourke issued the most emotional defense of any American's right to protest.
The passionate comments drew widespread praise, and people can't stop expressing their gratitude for them online. Even some of the most influential people in the sports world took notice of O'Rourke's comments.
His comments mirror exactly former San Francisco 49ers quarterback Colin Kaepernick explained when he started the protests in 2016. He told NFL Media at the time that it was about protesting police brutality and racial bias, saying:
I am not going to stand up to show pride in a flag for a country that oppresses black people and people of color. To me, this is bigger than football and it would be selfish on my part to look the other way. There are bodies in the street and people getting paid leave and getting away with murder.
Even so, that hasn't stopped people from frequently slamming the protests — the most notable person being President Trump. He blasted multiple players on Twitter just days ago, on Aug. 10, after they took a knee during preseason games the day before. In his tweet, Trump declared the players should be "suspended without pay." He wrote:
The NFL players are at it again - taking a knee when they should be standing proudly for the National Anthem. Numerous players, from different teams, wanted to show their 'outrage' at something that most of them are unable to define. They make a fortune doing what they love [...] Be happy, be cool! A football game, that fans are paying soooo much money to watch and enjoy, is no place to protest. Most of that money goes to the players anyway. Find another way to protest. Stand proudly for your National Anthem or be Suspended Without Pay!
Although the controversy surrounding the protests is ongoing, thoughtful comments like O'Rourke's offer a glimmer of hope that there will be more conversations surrounding racial injustice and police brutality going forward.