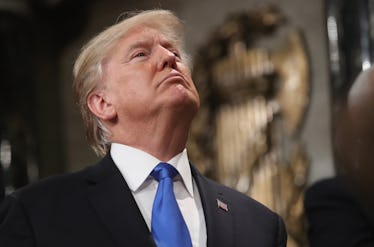 Donald Trump Is Back To Slamming NFL Players, Because Of Course He Is
Win McNamee/Getty Images News/Getty Images
Well... the silence was good while it lasted. I'm talking about President Donald Trump and his intense Twitter attacks on NFL players for kneeling during the national anthem. If you somehow didn't notice, he'd been relatively quiet on the subject during the offseason, but now that the preseason is in full swing, the president is renewing his feud with the players, and Donald Trump's tweet about suspending NFL players shows that he really isn't letting up on this matter.
According to The Hill, Trump's attack came after several NFL players of different teams took a knee during preseason games on Thursday, Aug. 9. In a series of tweets on Aug. 10, the president blasted those players, declaring they should be "suspended without pay" if they don't stand for the national anthem. He wrote:
The NFL players are at it again - taking a knee when they should be standing proudly for the National Anthem. Numerous players, from different teams, wanted to show their 'outrage' at something that most of them are unable to define. They make a fortune doing what they love [...] Be happy, be cool! A football game, that fans are paying soooo much money to watch and enjoy, is no place to protest. Most of that money goes to the players anyway. Find another way to protest. Stand proudly for your National Anthem or be Suspended Without Pay!
Unfortunately for Trump, the NFL said in a statement to ABC News on Aug. 10 that it has reached an agreement with the NFL Players Association to delay enforcing rules that could result in players being disciplined while it tries to reach a resolution with the union on the anthem. So the suspensions might not happen as immediately as Trump thinks — if at all. The statement read:
The NFL has been engaged in constructive discussions with the NFL Players Association regarding the anthem and issues of equality and social justice that are of concern to many Americans. While those discussions continue, the NFL has agreed to delay implementing or enforcing any club work rules that could result in players being disciplined for their conduct during the performance of the anthem.
Meanwhile, there has been no change in the NFL's policy regarding the national anthem. The anthem will continue to be played before every game, and all player and non-player personnel on the field at that time are expected to stand during the presentation of the flag and performance of the anthem. Personnel who do not wish to do so can choose to remain in the locker room.
Players who have refused to stand for the national anthem have said that their protests are in efforts to highlight and resist racial inequality and policy brutality against African Americans. Former San Francisco 49ers quarterback Colin Kaepernick started the protests in 2016, explaining to NFL Media at the time:
I am not going to stand up to show pride in a flag for a country that oppresses black people and people of color. To me, this is bigger than football and it would be selfish on my part to look the other way. There are bodies in the street and people getting paid leave and getting away with murder.
However, Trump has frequently criticized the players, owners, and the league itself, saying the protests are disrespectful to the flag and military service members. During an appearance on Fox News back in May, he even went as far to say that players who refused to stand for the flag maybe "shouldn't be in the country." On another occasion in November 2017, Trump slammed the NFL's commissioner Roger Goodell, writing that he'd "lost control of the hemorrhaging league."
Case in point: Trump's rants against the NFL and its players have been a longtime thing. And judging by his latest tweets, he (sadly) doesn't appear to be letting this subject go any time soon.