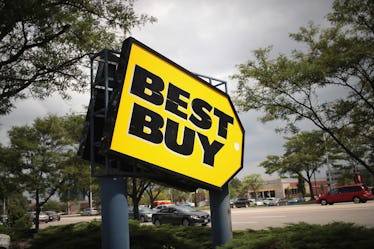 Best Buy's Cyber Monday Sales Include $150 Off An iPhone XS & $50 Off An Apple Watch
Scott Olson/Getty Images News/Getty Images
Well guys, Thanksgiving is officially over, and you know what that means: it's time to start thinking about Christmas. Even though I, personally, am still recovering from my Turkey Day feast, special events like Black Friday and Cyber Monday are helping me maintain that cheery holiday stamina. This year, amidst your online shopping extravaganza, you definitely won't want to miss Best Buy's Cyber Monday 2018 sales. You'll be able to grab the perfect gift for your favorite techie (on the cheap, that is).
Everyone knows that Best Buy is the go-to retailer if you're searching for the latest and greatest gadgets. From state of the art stereo systems, to larger than life flat screen T.V.s, Best Buy (online or in-sore) offers any and every piece of technology a 21st century millennial could ask for. I, personally, have my eye on the fancy new iPhones that were recently announced, but that doesn't mean you shouldn't spend some extra cash on the other tech lovers in your life. After all, once you peep these deals from Best Buy, your wallet will definitely let out an audible sigh of relief, and most of them will last all week long, beginning Monday, Nov. 26, with special early access for "My Best Buy" members on Sunday, Nov. 25, per the Best Buy website.
Maybe your bestie is always on-the-go, and if that is, in fact, the case, Best Buy is offering a wide variety of discounts on personal electronic devices, according to the store's Cyber Week deals page. Snag an Apple Watch Series 3 for $50 off, for example, or half off a set of Beats by Dr. Dre Powerbeats Wireless Headphones, that'll only cost you $99.99. You can also save $10 on a Tzumi PocketJuice Solo Portable Charger, which'll only cost you $4.99, or you can take a whopping $300 off a Google Pixelbook. Yes, you read that correctly — there are seriously so many sweet deals on personal devices, so make sure to get on that.
If you're looking to give the gift of Netflix and chilling, on the other hand, the electronics destination is offering a ton of T.V. deals for Cyber week. You can snag a Toshiba 55-inch LED Smart Fire T.V. for only $349 (saving you $130), a Samsung 32-inch Smart HD T.V. for $199.99 (which is $80 off the regular price), or a Sharp 40-inch HD T.V. for a jaw-dropping $149.99, giving you $50 off. These are some major steals, so upgrade your streaming sessions with one (or all) of these amazing, discounted T.V.s.
If you seriously want one of the new iPhones, though, Best Buy is giving Apple fans up to $150 off the iPhone XS, XS Max, and XR, according to the store's Cyber Week Phone Deals page. That's right — as long as you are qualified to activate the phone through Sprint or Verizon, you can snag an XS for $33.34 per month for 30 months, an XS Max for $36.67 per month for 30 months, or an XR for $24.99 per month for 24 months. This is definitely a steal, so if you're an Apple junkie, this is a seriously glorious opportunity for you.
In my opinion, Black Friday and Cyber Monday are all about scoring the best deals on the most expensive items, and let's be honest, technology is pretty expensive. However, big retail names like Best Buy are definitely the go-to places if you're looking to score some new gadgets on the cheap. After all, on Nov. 22, Best Buy offered a special promotion that saved customers $150 on an iPhone XR, XS, and XS Max. Will there ever be a deal more exciting than this? Never fear shoppers, I have a good feeling that Best Buy's Cyber Monday will keep us plenty satisfied.