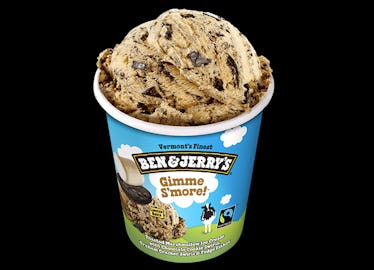 Ben & Jerry's New Flavor Tastes Like S'mores & It'll Be Your Favorite Summer Dessert
A summer without s'mores is kind of like a tequila shot without a lime wedge and a pinch of salt: utterly disappointing. Inhaling in the smoky taste of a blazing campfire, slightly burnt marshmallows, melted chocolate, and crunchy graham crackers after a long day of swimming and hiking in the sunshine is a simple pleasure. Quite honestly, it's one of summertime's ultimate highlights. So if you're a diehard s'mores fan but haven't gotten a chance to investigate Ben & Jerry's new Gimme S'more ice cream flavor, make sure to check it out ASAP. Aside from looking absolutely incredible, it's making me crave summertime more than ever.
If you know me at all, I'm definitely an easily excited person... but there's nothing that gets me more hyped than a new Ben & Jerry's ice cream flavor. To put things in perspective, when B & J's Schweddy Balls flavor emerged during my senior year of high school, my friends and I literally drove 35 minutes during our lunch period just to snag a pint. So yeah, you could say I'm pretty dedicated. And although s'mores-flavored snack items can sometimes be disappointing (ahem, especially when it's in the form of that protein bar I tried last week... yikes), it seems like Ben & Jerry's really nailed it with their new Gimme S'more flavor. They officially announced its release on their website, and I couldn't be more excited.
While there are a lot of s'mores-flavored ice cream varieties out there, including one actually made by Ben & Jerry's, Gimme S'more has a toasted marshmallow ice cream base, as opposed to the chocolate base in their other s'mores flavor, according to the flavor descriptions their website. And if you ask me, an avid s'mores and ice cream fan, that sounds damn delicious. In addition to the toasted marshmallow ice cream, Gimme S'more also includes chocolate cookie swirls, graham cracker swirls, and most importantly, fudge flakes. Forgive me God, for I have drooled.
According to Refinery29, Flavor Guru and Angry Chef, Eric Fredette, explained in a press release that the base of this new flavor is really what elevates Gimme S'more above all other s'mores ice creams... and probably above all other ice cream flavors in general, ever. He reportedly said in a statement that "the toasted marshmallow ice cream base adds a new level and depth of flavor." So if that doesn't get you going, I honestly have no idea what will. And if you weren't entirely sure, I am already tracking this glorious flavor down as we speak.
Once you've given the new Gimme S'more ice cream a shot, definitely make a point to try Ben & Jerry's new 2018 Truffle flavors. If you haven't already stuffed yourselves with the entire new lineup, the latest truffle flavors include the super fudgy Chocolate Shake It, the salty-sweet Caramel Chocolate Cheesecake, and finally, for the coffee lovers out there, the Chillin' the Roast. Each of them are chunky AF, hella unique, and obviously filled to the brim with soft, sweet truffles. And, quite frankly, there's no way to beat any of that.
If I'm being honest, getting even just a taste of summer during the freezing and miserable month of March is what I'm living for at this moment in time. And even though Gimme S'more doesn't involve an actual campfire, it's probably for the best, especially while living in New York City. On the bright side, though, it definitely won't result in any harshly burnt 'mallows — and when I get through my gorgeous pint of Gimme S'more, I'll still have three more truffle flavors to try.