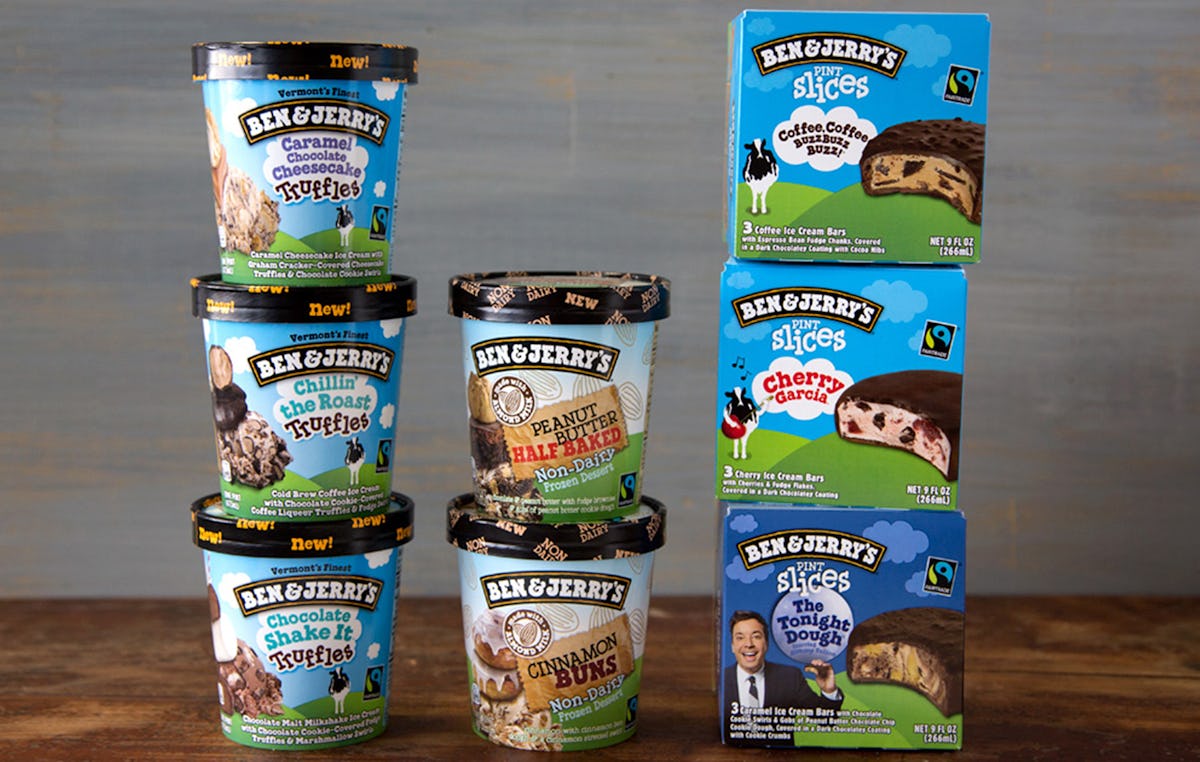 Ben & Jerry's Just Released Some New Flavors & They Sound So Delicious
Sometimes, people aren't always there for you... but hey, ice cream always is. Just think about it: Whether it's the end of a night out and you're alone in your apartment, or you're feeling sad and watching sappy movies, ice cream is still there, loyally waiting for you on a shelf in your freezer. And if you're a true ice cream aficionado (like me), you may have heard that esteemed ice cream geniuses, Ben and Jerry, came out with a selection of new flavors for the new year. In fact, among Ben & Jerry's new flavors for 2018, there are three highly anticipated truffle pints, and they sound so good.
Ben & Jerry's is known for frequently coming up with creative new flavors and recycling out old ones into its flavor graveyard. While I miss retired classics like Schweddy Balls and Chocolate Comfort, I couldn't be happier to try out its new pints, which include three truffle-inspired flavors (they honestly sound amazing).
According to a press release, the Truffle Pint lineup includes three original flavors called Chocolate Shake It, Caramel Chocolate Cheesecake, and Chillin' the Roast. They're filled with some of the biggest and baddest chunks you could ever dig up in a pint of Ben & Jerry's. The soft and sweet truffles are apparently to die for... so that kind of sounds like the appropriate way to go, right?
Chocolate Shake It starts with a base of chocolate malt milkshake ice cream. OMG, OK yes, you have my attention. It includes decadent chocolate cookie-covered fudge truffles (OK, drooling — I don't even know what that is, but it sounds perfect). And, it's finished with what Ben & Jerry's enticingly refers to as "marshmallow swirls." Oh. My. God. I honestly need this right here, right now.
The Caramel Chocolate Cheesecake includes a base of caramel chocolate ice cream — holla to all the chocolate fiends out there. The chunks, Ben & Jerry's explains, are graham cracker-covered cheesecake truffles. CHEESECAKE?! Man, this is classy. There are also wisps of chocolate cookie swirls in there. Wow, I can't even handle this. I need to get to a grocery store ASAP.
And finally, the Chillin' the Roast flavor is a major shoutout to all coffee drinkers, because the ice cream base is cold brew coffee ice cream — yes, you read that correctly. It includes chocolate cookie-covered coffee liqueur truffles (d*mn, it just keeps getting classier with these truffle selections), and it's laced with some badass fudge swirls. Holy cannoli, these sound unreal.
Along with these hella classy and beautiful AF truffle flavors, Ben & Jerry's also came at us with two new dairy-free varieties for all the lactose intolerants in the house. These include Peanut Butter Half Baked and Cinnamon Buns. Even if you're not vegan and/or dairy free, these sound pretty sensational... am I right? In terms of its new Pint Slices, flavors include classics such as Cherry Garcia, Tonight Dough, and Coffee, Coffee BuzzBuzzBuzz. So if you're in the mood for some good old-fashioned on-the-go dairy action, Pint Slices are obviously the right choice for you.
Before you venture all the way to your local grocery store for some sweet, cold action, make sure you locate the new flavors on the Ben & Jerry's website beforehand. Even though the new selection was officially unveiled on Jan. 16, the new products might need a little time to make their way to you, and I don't want you to be disappointed. But between our two true loves, Ben and Jerry, we could honestly never be too disappointed.
Check out the entire Gen Why series and other videos on Facebook and the Bustle app across Apple TV, Roku, and Amazon Fire TV.