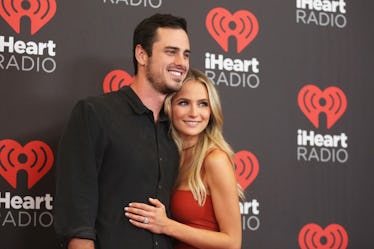 Ben Higgins Says He Had "No Clue" Lauren Bushnell Started Dating Chris Lane
Isaac Brekken/Getty Images Entertainment/Getty Images
When two people break up, how they treat one another can run the gamut from actually remaining friends who can hang out without awkwardness, to never speaking to one another again. If you invest time, emotion, and energy into a relationship, it's always nice to see both people treat each other with respect and kindness when things don't work out. Fans of The Bachelor seem to agree, and that's why Ben Higgins' reaction to Lauren Bushnell's new relationship is really refreshing.
Higgins was the Bachelor during Season 20 (Omg, 20?!) in 2016, and he proposed to Bushnell during the season's final episode. She accepted, of course, and the two then made the rounds of talk shows and media appearances, the picture of a reality TV happy ending. Unfortunately, they ended up splitting back in May 2017. Since then, the two have been publicly supportive and respectful of one another.
While Higgins himself is currently single, last week Bushnell stepped out with her new boyfriend, country singer Chris Lane, at the BMI Country Awards in Nashville. ET first reported on the news they were dating, which was confirmed by Lane's rep. Bushnell also shared a photo from the event on her Instagram, making their romance official on Instagram.
During an interview with ET's Lauren Zima on Monday, the former Bachelor reacted to news of Bushnell's new relationship, saying he had "no clue" she was dating anyone seriously. "This one was one I didn't know about," Higgins said. "I think the first time, when she was dating Devin [Antin], I remember that feeling — like the Band-Aid getting ripped off. This time, and I mean this, I really want Lauren to be fulfilled and happy, whether it's with Chris or not."
As reported by ET, Higgins elaborated on his hopes for Lauren's future happiness. "When it comes to her and her future relationships, I hope they're healthy and good and I hope they're bringing her joy. It's a weird thing when you date somebody, you care about them and then you hear they're dating somebody else. I just sit back and hope it's good." Higgins had a similarly mature response when Bushnell's previous relationship ended, which leads me to believe that he's genuinely at peace with their parting ways and wants the best for her.
While Higgins isn't the Bachelor anymore, he is currently a bachelor, and is optimistic for his romantic prospects in the future. However, he's currently super busy and focused on overseeing his new restaurant, Ash'Kara, in Denver, CO (which will be opening in December 2018, according to the restaurant's Instagram). Higgins shared his excitement about his new venture with a sentimental post on his Instagram page, calling this milestone a fulfillment of a "childhood dream."
So while Higgins and Bushnell might not be the kind of exes who talk often, it's clear that they have mutual respect and consideration for each other. Which is pretty impressive and satisfying after not only experiencing a whirlwind romance and engagement, but also sharing their journey with zillions of loyal Bachelor fans.