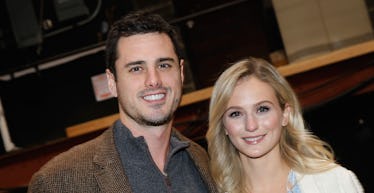 Ben Higgins Had The Best Response After Learning Lauren B. Split From Her Boyfriend
John Lamparski/Getty Images Entertainment/Getty Images
Long before Bachelor Arie Luyendyk and his own Lauren B. shared their wedding plans with the world, Season 20 Bachelor Ben Higgins and his fiancée Lauren Bushnell seemed like the franchise's greatest chance of achieving another marriage between a Bachelor couple. The pair's relationship didn't work out, and although they split in 2017, Ben clearly still wishes the best for Lauren, who just broke up with her boyfriend of more than a year. Ben Higgins' response to Lauren Bushnell splitting from Devin Antin is so sweet and mature, and I hope this is a sign that the two can become good friends again soon.
Following Ben and Lauren's split in May 2017, Lauren's new relationship with real estate investor Devin went public that August. According to People, the two met before Lauren was on Ben's 2016 Bachelor season and reconnected soon after her split from Ben. At the time of the breakup, the Bachelor alums had been together for over a year, a fairly admirable length compared to most engaged couples on The Bachelor.
When Lauren's relationship with Devin was publicized, sources described her and Ben as being on "good terms" with each other, and although they may not be BFFs, Ben's reaction to Lauren's new breakup definitely shows that he cares. Speaking to Us Weekly recently, Ben said about Lauren:
It's such an interesting place for me to sit in where all you hope for that person at first, you're angry and hurt and confused, then all of a sudden you turn to this thing where you're like there is no good from me being mad. There is nothing good coming from me wishing any ill will on Lauren... It's so cliché to say I want her happy — I just want Lauren to feel fulfilled, joyful and to be celebrated. I know these times in life. I haven't had to go through it in the last year and a half, but when breakups happen, it's really raw and hard. So I just hope whatever happens, she can recover with grace. She will.
Lauren has yet to address her breakup publicly, but posted an Instagram photo promoting kindness soon after the news broke. Her recent relationship wasn't directly in the public eye, so we can't say that this photo is completely tied to the breakup, but her caption definitely sounds intentional. She wrote, "The easiest way to show kindness is to smile at a stranger... I was having the worst day and got into an elevator yesterday and the woman in there greeted me with the most genuine smile. My entire day was turned around."
It sounds like Lauren was in need of a friendly face once her breakup went public, and the universe seems to have provided. On the other hand, Ben sounds respectful of her space, and his composed response comes several months after he emotionally revealed on Bachelor Winter Games that he wasn't totally over Lauren yet.
Meanwhile, Ben has also seemingly turned down an offer to be the Bachelor again, with sources telling Us Weekly, "He is really focusing on his coffee company [Generous Coffee] at the moment. He feels like things have settled down and he has a normal life again."
At this point, Ben and Lauren both seem to have delved back into normal citizenship — well, as much as former Bachelor contestants can nowadays — and moved on from TV fame. We wish them each the best as these new chapters in their lives begin, and kudos to Ben for having such a mature mindset about his ex's breakup.