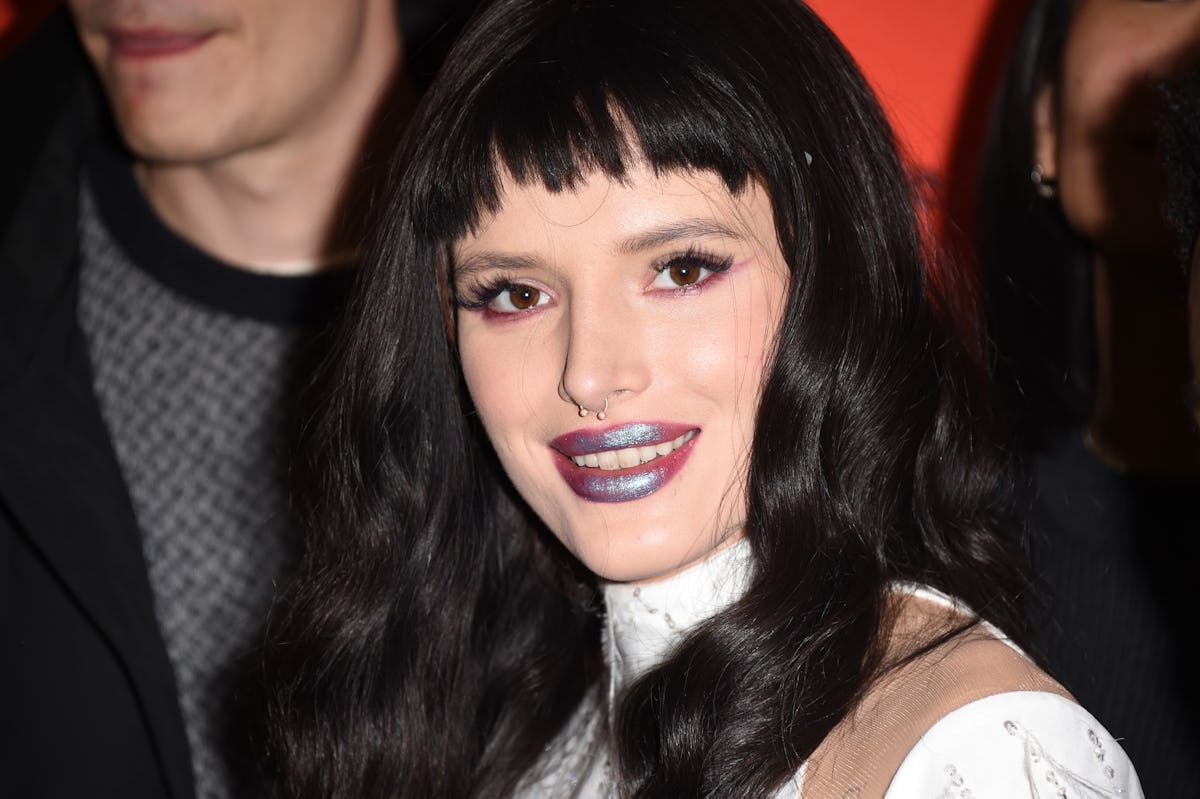 I Went To A Party With Bella Thorne At Sundance Film Festival & It Was Unreal
Jason Merritt/Getty Images Entertainment/Getty Images
I had no idea what to expect when I learned I'd be going to Park City, Utah, to cover the 2018 Sundance Film Festival. All I knew was that it'd be cold AF and I had to buy a cool pom pom hat because the style was ~winter chic~. In addition to snowmobiling, hot-tubbing and oh, watching film screenings, I was the most excited about going to star-studded parties and turning up with a bunch of celebs. My bb Bella Thorne made an appearance at Sundance, and LET ME TELL YOU, girl knows how to get lit.
On Saturday night, I attended the cast party for Assassination Nation in the basement of Chase Sapphire lounge on Main Street and danced the night away with B-Thorne. (When I say "danced the night away," I mean Bella danced with her friends in a closed off VIP section, and I awkwardly swayed to the music like, 10 feet away. EPIC!!!!)
The film is directed by Sam Levinson and is all about the chaos that ensues after the Salem Witch Trials. Suki Waterhouse, Hari Nef, Bill Skarsgård, Maude Apatow, and Odessa Young star in the film alongside Thorne, just to name a few.
After the premiere of Assassination Nation at Sundance, Thorne, Nef, and Waterhouse hit up the Chase Sapphire lounge and it was NUTS. Thorne had the most extra entrance of all time, sporting a neon pink wig and holding hands with her rumored boyfriend, Mod Sun. The two have reportedly been dating since around October 2017, and they def packed on the PDA all night. JUST LOOK AT THEM:
Thorne must have changed into a casual outfit for the party because this is what she looked like during the movie's premiere:
GIRL KNOWS HOW TO BREAK IT DOWN.
I gotta be honest – Thorne's squad was TURNT. I love my friends, but Thorne's crew showed up in fur jackets and hats and took pictures of each other dancing all night. They were squad goals for sure, and now I wanna replace all of my friends with Bella's friends. Lol, I'm serious.
It was honestly wild (and a little weird) to see Bella Thorne in person with my own eyeballs. She's everything I thought she would be and more. Right at the end of the night, she grabbed her coat and walked right past me. We were so close for just a moment, and I swear I smelled the shampoo in her hair.
Creepy? IDK, PROBABLY.
The party was the highlight of my weekend, no doubt about it. The DJ played throwbacks like "Sugar, We're Goin' Down" and "I Write Sins Not Tragedies," so my middle school self was flippin' an effin' sh*t. There was also unlimited FREE alcohol, so I spent three hours chugging vodka sodas at the bar. BEST NIGHT OF MY LIFE? I think so.
Earlier in the evening, Elle Fanning and Peter Dinklage made an appearance and did karaoke to "Love My Way." I legit can't make this stuff up. LOOK AT THEM GO:
The two were there for the premiere for their movie I Think We're Alone Now. The film stars Fanning and Dinklage as the last two people on Earth in a post-apocalyptic world.
I highly recommend seeing both of these films if you're in Park City at the end of January. It was my first time visiting Sundance, and I truly think it was one of the best weekends of my life. Bella, thank you for shaking your booty to the tunes and making awkward eye contact with me for .02 seconds. You are my Sundance queen and I miss you.