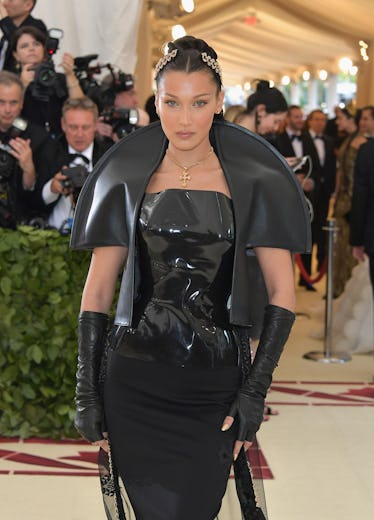 Bella Hadid's Wicked Met Gala Look Is Giving Me Serious 'Maleficent' Vibes
Neilson Barnard/Getty Images Entertainment/Getty Images
Fashion's biggest night has finally arrived, and I, for one, am on the edge of my seat. This year's Met Gala has made its long-awaited arrival, and with the current theme being "Heavenly Bodies: Fashion and the Catholic Imagination," I don't think any of us are fully prepared for the vastly different, wild, and perhaps even controversial interpretations of this year's theme on the red carpet. Out of all of tonight's looks, though, Bella Hadid's 2018 Met Gala look truly blew me away. The model graced the red carpet at the event on May 7, 2018, and I am truly deceased over the goth, Maleficent vibes I'm getting.
Exploring how religion has influenced fashion over the years, this year's theme has attracted a vast array of visual interpretations, including looks gilded in gold, literal visions with sacred hearts and crosses, and many a head piece. Bella's look for the 2018 Met Gala is a wickedly stunning combination of of all of these things. And when I say "wickedly," I mean that pretty literally. The younger Hadid sister strolled up to the red carpet in a simultaneously soft, yet sleek, head-to-toe black look, designed by Chrome Hearts, an L.A. brand owned by the parents of Jessie Jo Stark, Hadid's best friend.
Hadid seems to have embraced her goth side with her Met Gala outfit, which incorporated a black, fitted, latex bodice, a long black skirt with large and small cross appliqués, a structured jacked with raised, rounded shoulders, and an attached sheer black train with black lace detailing at the hem. To tie everything together, Hadid wore long, black leather gloves with the fingertips cut out and gold buttons along the seam, and she is truly my goth hero.
Hadid's hair was styled in a slicked back, braided bun, with black and gold hair accessories on either side of her head that extended down her back with her train. Her nails were absolutely dripping in gold as well, as was her neck and ears, courtesy of her large, gold cross necklace and small studs.
Contrary to her rather intensely wicked fashion look, Hadid's 2018 Met Gala beauty look was slightly softer. Her makeup featured a fairly sharp, Maleficent-esque contour, while the rest of her makeup was less intense. Hadid's eyes were adorned with a bright pop of gold to match her nails and accessories, and she kept things simple on her lips with a soft pink color.
While some might view Hadid's interpretation of this year's theme as more goth or evil than religious, her look does pay homage to catholicism's impact on fashion in subtle ways. From both the front and the back, you can see crosses adorned on several parts of Hadid's outfit: small black crosses along the train of her skirt, a gold cross on her neck (a piece of jewelry common for practicers of Christianity), and a gold cross embroidered on her structured jacket.
Hadid's 2018 look is a serious glow up from her 2017 Met Gala outfit. At last year's event, Hadid stepped out on the red carpet wearing an extremely sexy, fitted, one-piece, lace Alexander Wang body suit, with the back of the outfit dipping pretty low. The look also featured beading and embroidery throughout. (Yes, even down to her shoes.)
Though Hadid's wicked 2018 look is certainly a sophisticated step up from last year, she certainly didn't leave her goth vibes behind, as both 2017 and 2018 showed Hadid embracing her dark side. As 2018's Met Gala comes to a close, there's only one thing I know for sure: I'm gonna need Bella Hadid to take me to church.