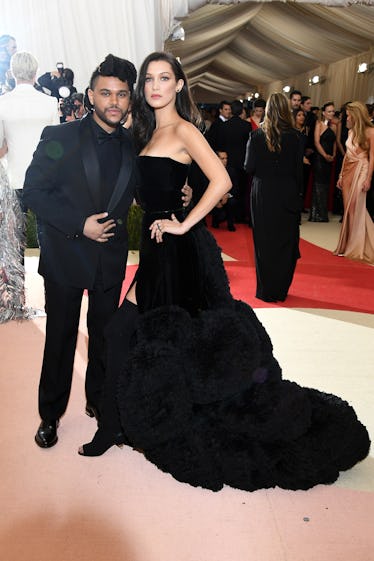 Bella Hadid & The Weeknd Were Caught Kissing In Cannes & I Can't Stop Screaming
Larry Busacca/Getty Images Entertainment/Getty Images
Maybe — just maybe — love isn't dead after all. The last few months, the world has been shaken up by some pretty massive breakups. Jenna Dewan and Channing Tatum. Nikki Bella and John Cena. Ariana Grande and Mac Miller (I need a few more moments for this fresh wound to heal). But there's one couple who called it quits who are seemingly back together — or, at the very least, their lips are back together, and that's just as good (or maybe even better). Yep, Bella Hadid and The Weeknd were kissing in Cannes and now my cold, black heart is starting to finally thaw out.
The pair has been somewhat on-again, off-again, making their first appearance as a couple at the 2016 Grammy Awards in February, but by November, the two ended things because of their very busy schedules.
Then, in January 2017, there was that whole Selena Gomez makeout ~situation~, where TMZ published photos of The Weeknd and Gomez locking lips behind a dumpster. It was a difficult time to navigate through, TBH.
But, alas, that was short-lived (thankfully), and by November 2017, The Weeknd was spotted walking out of Bella Hadid's New York City apartment, sparking rumors that perhaps the two have reunited. Fans of the couple were crossing their fingers and toes, because THIS IS WHAT WE WERE WAITING FOR.
Pretty, pretty, please. We're begging you.
While there was no real ~confirmation~ that they were dating again, the two were once more reportedly kissing at Coachella on April 13, 2017, and according to an eyewitness that spoke with Us Weekly, they were "canoodling and being affectionate as she sat on his lap." Elite Daily reached out to Hadid and The Weeknd's teams for comment, but did not hear back by the time of publication.
And that brings us to present day, where some eagle-eyed fans caught Bella Hadid and The Weeknd getting hot and heavy at Cannes on May 10, and there are a lot of photos to prove it. There's a photo of Bella and The Weeknd smiling together, looking down at what's most likely a cell phone — and, OK, that's not exactly proof that they're back to being "a thing," but the photos of Bella and The Weeknd kissing might change your mind. There's also a video of The Weeknd looking happy as hell standing next to Bella, so I think we should all just do the math, because this adds up to the pair still totally having feelings for each other.
Blessings, blessings to all.
Bella Hadid has been incredibly candid about how she feels about The Weeknd, despite having ended things, and in February of 2017, she told Teen Vogue that she will "always love him." So, you know, time to go cry in a corner, because that hits right in the feels.
"It was my first breakup — or second, next to the horse — and so public. As an outsider, you might think I handled it so well, but it's always in your heart, and you always feel it very heavily," she said. "It'll be hard for a while. Love hurts, but you have to pull through." She continued, adding,
But I'll always respect him, and I'll always love him. Sometimes you want to be sad about it or handle it differently, but at the end of the day, you never want to burn a bridge that you've fought so hard to build.
This girl is making me weep right now, no lie.
But now that there are these fancy new photos of the two seemingly rekindling their romance, I am going to take a leap of faith here and say that love is not dead. So Bella and Abel: Do us a huge solid, and try to make things work this time around. Do it for the fans.
OK, fine, also maybe do it because you two love each other deep down. But also, maybe for the fans. We need this more than you know.