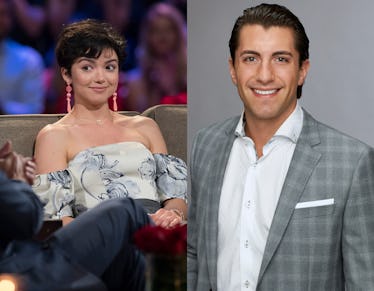 Bekah M.'s Tweet About Jason's 'Bachelorette' Departure Is Stirring Up Controversy
ABC
Becca Kufrin breaking up with Jason Tartick on The Bachelorette destroyed Bachelor Nation this week. First, Becca eliminated him before they even entered their fantasy suite, seeing no future with Jason despite having a strong connection with him. After Jason chose to pull the ultimate Jack Pearson and returned to present Becca with a scrapbook of mementos from their relationship, fans were ready to volunteer as tribute and offer themselves to Jason, but Bachelor favorite Bekah Martinez wasn't as swept away as most viewers were. Bekah M.'s tweet about Jason's Bachelorette departure is stirring up some controversy among Bachelorette fans, and I honestly get both sides of this discussion.
Jason has been the celebrity doppelgänger of this Bachelorette season, with fans comparing him to famous men such as Milo Ventimiglia and Andrew Keegan. My visions of Jason being a real-life Jack Pearson came true when he gave Becca a memory book detailing their relationship, but Bekah M., who stood out on Arie Luyendyk's Bachelor season for her outspoken nature, wasn't totally buying his grand gesture. She shared her thoughts on Twitter, and just as fans' reactions to Bekah normally go, the responses were mixed. At the wise, jaded age of 23, Bekah wondered if a "cold, cynical heart" led to her being unimpressed with Jason's exit.
While several of Bekah's followers agreed with her, others crafted well-meaning, fairly kind responses to her remark. As a fellow gal in her early 20s, I'm glad that people have moved past criticizing Bekah's age and respect her opinion, and those who disagreed with Bekah had totally valid reasons why. After dealing with so much petty drama among the men this season, viewers were just happy to see Jason calmly express his thoughts upon Becca's rejection and still leave the show peacefully.
Given the problematic stories about certain contestants that arose both onscreen and off this year, fans are also on board with Jason simply because he's seemingly innocent in comparison to some of his fellow contestants. If some bad dirt about a Bachelorette man hasn't emerged yet, it's safe to say that he's pretty golden.
Although she did like some of the replies disagreeing with her, Bekah still wasn't joining the Jason fandom and later poked fun at his inability to cry during the episode. To be fair, I don't think Jack has cried on This Is Us yet, so maybe the resemblance is an image Jason is just trying to keep strong at this point.
Everyone is entitled to having a snarky comment or two about The Bachelorette, but if you want proof that genuinity was at the heart of Jason's second goodbye, the 29-year-old corporate banker spoke to Glamour about making his scrapbook for Becca, saying:
I did it all, and I did it early on when we started sharing memories. Because there's so much emotion going on, it was the one way for me to channel my energy with what we had. When I was struggling or going through tough times, I would go back to it and make notes after every single date. I was fortunate enough to have a producer who would take pictures and print them off for me. So it was something that I made throughout the journey and was preparing to give it to her that night [of the fantasy suites date], but unfortunately, I wasn't in a position to do so.
Aw, my heart. Maybe some fans recognized the gesture as too hungry for fame, but when it comes to summarizing Jason's Bachelorette stint, I'm turning to the advice he doled out earlier this season.
Bekah might not be Jason's biggest fan, but I definitely have my fingers crossed for the Buffalo native to snag the Bachelor gig. Tears or no tears, Jason's sensitivity totally rings true for me.
The Bachelorette returns on Monday, July 30, at 8 p.m. ET on ABC.