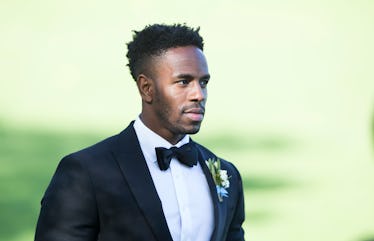 'Bachelorette' Contestant Lincoln Was Convicted Of Indecent Assault & This Season Is Rough
ABC/Paul Hebert
The drama has been nonstop on this season of The Bachelorette, but on Wednesday, June 13, things got a little more complicated off-screen when news broke that one of Becca's contestants was convicted of a serious crime. According to Variety, Bachelorette contestant Lincoln was convicted of indecent assault in May 2018, which is definitely not something Becca (or anyone) wants to hear about a guy she's dating. Elite Daily has reached out to Lincoln's attorney for comment but has not heard back by the time of publication.
Update: On June 14, Warner Brothers released the following statement: "No one on The Bachelorette production had any knowledge about the incident or charges when Lincoln Adim was cast, and he himself denied ever having engaged in or having been charged with any sexual misconduct. We employ a well-respected and highly experienced third party who has done thousands of background checks consistent with industry standards to do a nationwide background check in this case. The report we received did not reference any incident or charge relating to the recent conviction - or any other charges relating to sexual misconduct. We are currently investigating why the report did not contain this information, which we will share when we have it."
Reality Steve first reported the news with the help of former Bachelor contestant Ashley Spivey. According to Ashley's research, Lincoln was charged with indecent assault and battery in May 2016 after he allegedly groped and assaulted a woman on a Boston harbor ship. Two years later, on May 21, 2018, Lincoln was convicted and sentenced to "one year in a house of correction, with that term suspended for a two-year probationary period," as the Press Secretary for the Suffolk County District Attorney's Office in Massachusetts told Ashley.
During this two-year probationary sentence, the judge ordered Lincoln to attend three Alcoholic's Anonymous meetings a week and to stay away from the victim. And according to Reality Steve, who researched indecent assault in the state of Massachusetts, the conviction means that Lincoln will have to register as a sex offender.
How was this missed during the background check stage of casting? Lincoln was charged with the crime in May 2016, well over a year before ABC began the casting process for The Bachelorette Season 14. We all know that the network thoroughly vets contestants for the show, so it seems near-impossible that no one was able to see that Lincoln had a pending criminal charge.
After the story broke, Ashley took to Twitter to express her frustration with the situation. "I'm still in the process of finding out if he has registered as a sex offender yet but let that sink in, someone who has to register as a sex offender was allowed on the show," she wrote, adding, "The company that handles background checks on the contestants obviously dropped the ball on this one."
She later defended ABC and The Bachelorette's production team, insisting that producers would never manipulate a serious situation like this for drama and ratings.
This season of The Bachelorette has been pretty rough, so I'm sure that this is the last thing Becca needs. A few weeks ago, a scandal erupted when Ashley Spivey (yeah, she's had a busy month) revealed that Garrett, one of the front-runners this season, had liked multiple offensive posts on Instagram. Garrett publicly apologized for liking the posts and Bachelor Nation moved on, but it was a long few days before things blew over.
And that's just off-screen. On-screen, things have been even more dramatic. During Week 3, David fell off his bunk bed in the mansion and had to be rushed to the hospital. There was blood everywhere and the guys almost teared up as they talked about him, so you know it was serious. Later in the episode, Clay hurt his wrist while playing football (which was weird, because y'know, he's an NFL player) on a group date, and he returned that night wearing a sling. It seemed like Clay would stay on the show — he even won the rose — but he then learned that he needed surgery on his wrist and opted to leave. This process is supposed to be fun for Becca, but I have to imagine that reliving the non-stop, heartbreaking drama was difficult for her.
Hopefully, this is the last major scandal that plagues this season of The Bachelorette. And if Lincoln goes home in the next few weeks? That wouldn't be the worst thing in the world.