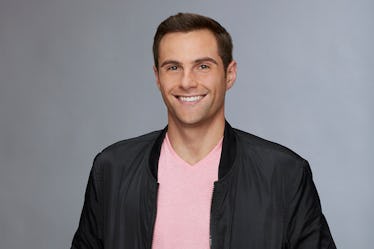 David Was Rushed To The Hospital On 'The Bachelorette' & It Was So Intense
ABC
The Bachelor franchise loves to tease out a dramatic injury. It seems that at least once a season, we're shown footage of a bloody face or huddling medics only for the injury to be a slight trip near the mansion's pool or a tiny blunder on a physical group date. David's hospital scene was in an entirely different league than those anti-climatic injuries and, TBH, the footage of ambulances whisking him away was just as scary as ABC promised. So, what happened to David on The Bachelorette?
Thanks to an always chatty Lincoln's narration of the spectacle in previews, we had some clues about what happened before Episode 3 of Becca Kufrin's season aired. Before going into the episode, we knew that the medical emergency seemingly occurred in the middle of the night and that outside help had to be brought to the mansion. Plus, who could forget that foreboding shot of the men in their pajamas watching EMTs usher their friend outside on a gurney?
In the initial reveal of the injury, we only caught sight of David being carried outside, and the moment definitely seemed more downplayed than it appeared in previews. Lincoln shared that he saw David "slumped on the ground," which is pretty terrifying without context. You know things are serious when we get a glimpse of the contestants' bedrooms or the upstairs of the mansion, and such was the case in this frantic scene when cameras showed some blood on the ground.
Before the show cut to a commercial break, we spotted male model Jordan sitting by himself on a couch in the mansion, playing up the show's fixation on Jordan and David's feud with each other.
The next morning, the men went over the incident, recalling David on the ground with a bloody face. Chris Harrison also visited Becca to share the news, saying that he fell off his bed and landed on his face. Becca even got to call him in the hospital, and David sounded stable, admitting that he wasn't used to sleeping in a bunk bed when he rolled over and fell. So, toss that theory of Jordan attacking him out the window. If anything, Jordan called a truce by "David-proofing" his bed.
As someone who spent a good portion of college sleeping in bunk beds, I'd like to say I sympathize with David's plight, but Jordan drilling a safety gate onto the bed was quite amusing.
Legitimate injuries of The Bachelorette contestants are few and far between, but they can be quite serious — remember when a contestant died in a paragliding incident shortly after his elimination from Andi Dorfman's season? While Episode 3 totally breezed through the very intense-looking incident, it's good to know that David seemed to be on the mend when talking to Becca. But how does this affect his time in the competition?
As far as we know, the injuries won't curtail the 25-year-old venture capitalist's quest to win Becca's heart. Think back to last season of The Bachelor when photographer Maquel's grandfather died. She was permitted to leave and be with her family, but she still joined the women in their next city. David's recovery seems to be as quick as he implied in the phone conversation, and as next week's preview showed, he'll turn up in the second half of the rose ceremony. Becca can't exactly send him home when he's been hospitalized in his pursuing of her, right?
We'll have to wait and see when and if David makes it back into the mansion. Maybe producers will even keep Jordan's David-proofed gate on the bed post-season to avoid future accidents.
The Bachelorette returns on Monday, June 18, at 8 p.m. ET on ABC.