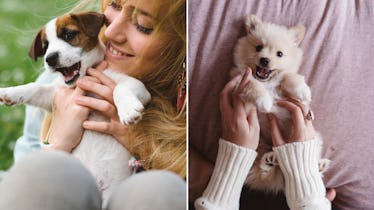 11 High-Key Reasons Why Being A Dog Mama Is One Of The Greatest Joys In Life
Ditching your planner after a long, stressful day and knowing that a bottle of rosé is waiting for you at home is comforting AF. What makes it even better? Having an incredibly adorable, furry face and wagging tail greet you at the door upon arrival. All you want to do is escape reality for a bit, slip on your fuzzy slippers, and snuggle the night away with your fur baby. Being a dog mom is undoubtedly one of the greatest joys in life — and if you have a furry friend of your own, you already know just how lucky you truly are. The fact that your pup has an endless amount of love, cuddles, and loyalty they want to give is a pretty solid place to start.
When you first laid eyes on your fur bae, you fell head over heels in love. From that very moment, you knew your life would change — in the best way. You tend to find it difficult to say "no" to those precious puppy dog eyes, and who can really blame you? They command and deserve attention (and treats) at all times. When the weekend comes, sometimes (OK, let's be real, most of the time) you opt for a chill night in spent with the fur babe and some popcorn instead of a wild night out with your friends. You and your pooch are the ultimate team, and the laid-back vibes suit you.
Your pup is truly your stars, your sun, and your moon — and the unconditional amount of love you have for them is unreal. Here's why being a dog mama is the best kind of title there is.