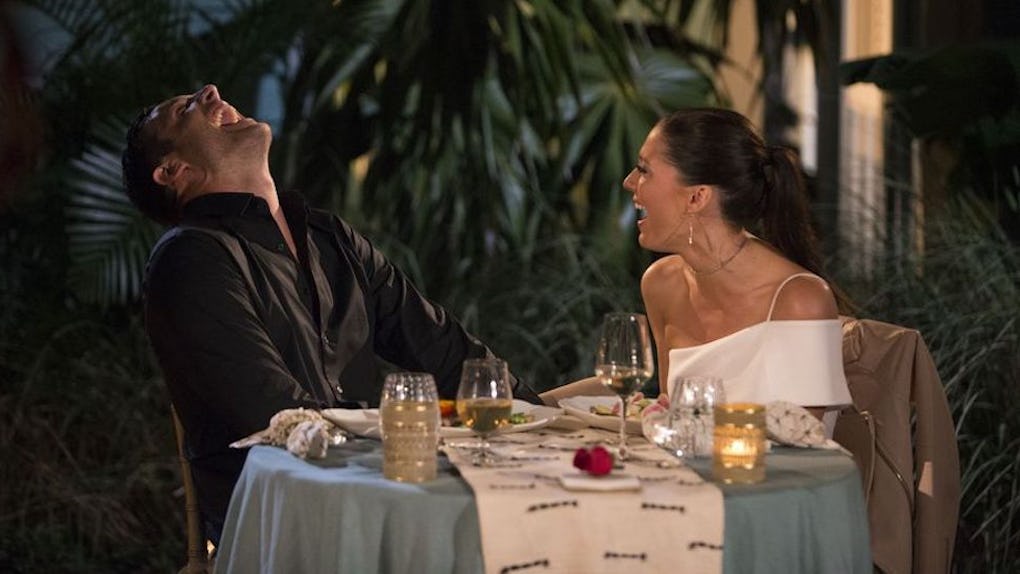 ABC
Becca Kufrin & Garrett Yrigoyen's Body Language On 'The Bachelorette' Shows Serious Love
During last season of The Bachelor, many of us watched on in horror as Arie Luyendyk Jr. trolled Becca Kufrin during one of the most agonizing finales in the history of the show. After proposing to her and subsequently dumping her, Kufrin was chosen as the next Bachelorette. Fast-forward several months, and now it's down to two guys — Blake Horstmann and Garrett Yrigoyen. Kufrin says she has strong feelings for both, but Becca Kufrin and Garrett Yrigoyen's body language is a solid indicator that even though she can't verbally tell him she's in love with him until the final rose, she totally is.
Around the time the season premiered, Yrigoyen made headlines after fans noticed he liked some disturbing social media posts — putting a huge damper on the fact that on-screen, he received the coveted first impression rose and has clearly been a front-runner all season. LA Times reporter Amy Kaufman reached out to the networks for comment, and both ABC and Warner Brothers stayed mum and said they wouldn't be commenting. Could this be because Yrigoyen is Becca's final rose? It looks like we'll just have to wait and see how things unfold in the finale, but in the meantime, I spoke to body language expert Traci Brown to get her opinion what their body language can tell us right now.
The First Night
"They're really into each other," Brown tells Elite Daily. "Notice how he's holding her loosely but she's got his head in her hands. That's showing control on her part — which she has."
This is the night they met, and the night Kufrin gave him the first impression rose. ICYMI, the first impression rose is given on the first night by the bachelor or bachelorette, to a potential suitor who they think has the potential to win his or her heart. Their first smooch came pretty much right after, and despite his shady social media activity, even I must admit that they do look very cute.
The First Group Date
"They're clearly both having a good time. She's showing control again with both arms wrapped around his," says Brown.
And just look at how happy they look. Even on their first group date together they already seem like an item. I'm sorry, but it's hard to deny the intense vibes between these two.
"[Also,] he's got a bit of a crotch display going on with legs spread apart. So he's pretty into her, too," notes Brown.
The Second One-On-One
By the time the second one-on-one date rolled around, it became even more obvious that Yrigoyen had started to pull at Kufrin's heartstrings. Seriously, do these two ever stop laughing?
"See how his head is tilted way back laughing?" Brown points out. "That's the same look that she showed in the previous pic. So, they're starting to match each other, [which is] what happens when couples are in-sync."
After Meeting The Parents
"They're more tangled up than ever — now he's starting to use her strategy of wrapping his arms around her any way he can. That's more matching," explains Brown.
I think most people can sympathize with how hard it must have been for Kufrin to go through what she did with Luyendyk Jr. on national television. So, it's hard not to feel overcome with happiness for her that she's moving on.
Their First Date In Thailand
"See how their fingers are intertwined? That's showing a deep love connection," observes Brown.
I know, I know, we're all thinking it... but I'll just say it. Falling in love (or at the very least in lust) while you're on an all-expense paid vacation with a ton of hot and eligible bachelors is probably one of the easiest things in the world, and these two are no exception. They really do seem to be letting the love juices flow with reckless abandon.
"Then he pinned her hands behind her — not giving her any of the control. He's made up his mind that she's for him. It could be a kind of turning point in the relationship about who's really in control," says Brown.
After The Fantasy Suite
We've all had our suspicions about what goes down in the fantasy suite, and it seems like the broken headboard is irrefutable proof that they definitely took each other on a "test drive," so to speak.
"That [broken] headboard is really something," says Brown. "But it didn't look too sturdy to begin with and she's the one who initiated this kiss, so it's safe to say that she's happy with the situation and how things went."
Well, all things considered, it seems like Yrigoyen has a good chance of being the last man standing. However, if last season of The Bachelor is any indication, just about anything could happen. Despite the controversy surrounding Yrigoyen as a contestant — which is totally justified considering the situation — it's up to Kufrin to be the final judge.