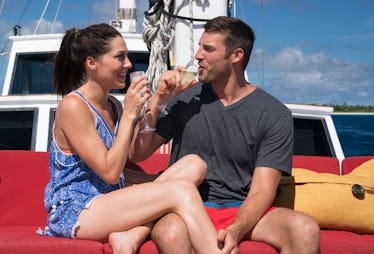 Becca & Garrett's 'After The Final Rose' Interview Shows How Happy They Really Are
ABC/Paul Hebert
The Bachelorette Season 14 finale was filled with tears, breakdowns, and a picture perfect proposal, but every true Bachelor Nation loyalist knows a lot of the juicy drama goes down "After the Final Rose." Chris Harrison knows what's up — he's been doing this for what seems like 100 years now — and he wasted no time in getting down to business about Becca and Garrett's relationship, no matter how uncomfortable the conversation. Becca and Garrett's "After the Final Rose" interview proved to fans that they're sublimely happy these days.
Garrett wasn't an unsurprising pick for Season 14's winner. The goofy Nevada-based sales rep with a penchant for quoting Chris Farley caught Becca's eye immediately in the premiere — he even nabbed the coveted first impression rose. Cut to 10 weeks later and he's down on one knee proposing to his wifey-to-be.
"I love you so much. Not just now, but forever. You're my world," Garrett told his now-fiance before popping the question.
"He's going to be my teammate. He's going to be the best partner. He's going to stand by me every day. He's somebody that I could see my dad loving so much. I can picture it all," Becca confessed prior to the big moment.
It was an undeniably genuine moment in a season marred by controversy and fighting. So, how are Becca and Garrett doing today? As far as their smiles and comments are concerned, they couldn't be more excited to start their lives together.
Becca revealed back in May prior to the season even airing that she found love during her Bachelorette journey and that she was happily engaged in the process, so fans knew a proposal was coming.
"It was the happiest moment of my life. And it feels so good to say it. I still pinch myself, like, did that all just happen? It's been a whirlwind," she divulged to People.
Garrett made headlines early on in the season when it was discovered he had "liked" a slew of offensive posts on a now-delted Instagram account. He issued a public apology via a new social media handle after the news broke. A portion of his statement read:
I am sorry to those who I offended, and I also take full responsibility for my "likes" on Instagram that were hurtful and offensive. Garrett_yrigs12 was my former Instagram handle and I decided to take it down and start fresh because I have learned an extremely valuable lesson and am taking steps to grow, become more educated and be a better version of myself. I am not perfect, and I will never be anywhere close, but now I will always be more informed and aware of what I am liking and supporting, not just on Instagram, but in life.
Becca expressed her feelings on the unfortunate matter as well, noting that "everyone is entitled to their own opinions." It appears the couple has moved passed the events and have dealt with the situation together. Garrett even apologized again, saying he "didn't realize the effect behind a double tap or like on Instagram."
"We've been honest and open and transparent with one another since the beginning and when it all came out we attacked it," he added.
Judging from a video of their getaway together, the couple is just as adorable as ever (minus Garrett's snoring), even in hiding.
"We have grown so solid in this relationship and to get to know him, I've loved every second of it," Becca gushed.
Now that Garrett and Becca's love is public (no more wigs!), I'm sure Bachelor Nation will be seeing a lot more of their cuteness in the weeks to come. See ya at Costco, guys!