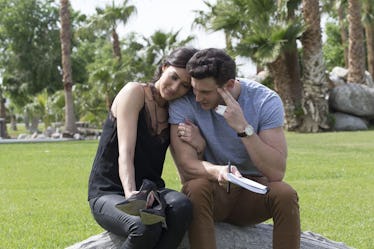 Becca & Blake's Body Language On 'The Bachelorette' Proves He Might Be The One For Her
So, I have to confess: I've never been a big fan of The Bachelor franchise. It's always been a bit too soapy for my taste. But, umm, folks... I think maybe my cold, dead heart is not so cold and dead after all, because — and I can't believe I'm saying this — OMG! I'm totally shipping Becca and Blake on this season of The Bachelorette! When Blake told Becca he was in love with her, I kind of melted. This actually feels l like it may be real love, if Becca and Blake's body language on The Bachelorette is anything to go by.
As it turns out, I'm not the only one noticing how hot the chemistry and body language is between this couple; the topic came up on the most recent episode (the infamous "hometowns" episode) when Blake brought Becca home to meet his family. When Blake sat down to talk to his father about his growing relationship with Becca, his dad mentioned the dynamic between them saying, "The body language between you two, it really does feel like you guys have feelings for each other." He went on to express his concern that Blake was in danger of having his heart broken again, saying "If she doesn't pick you, you're going to get crushed, and how do you deal with that? Have you thought that far down the road?" Blake did his best to assure his father that even though he was afraid of being hurt, it was worth the risk.
"Every single conversation I've had with her has been nothing but just amazing," Blake said. "Like I've been waiting kind of for, like, us to have, like, a misstep here or there, but we haven't had it." Seriously, stop, my heart can't take it.
So, while both myself and Blake's pop are picking up on the couple's vibes, neither of us (as far as I know) are experts on the subject, so I reached out to an actual body language expert, Blanca Cobb, to see what she sees happening between Becca and Blake over the course of the season. Here's what she has to say.