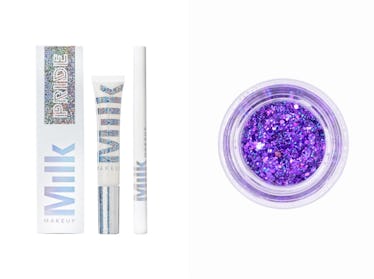 Celebrate Pride Month With These Dazzling Beauty Products That Give Back To The LGBTQ Community
Milk Makeup/ Lemonhead
Happy June, happy upcoming first day of summer (June 21!), and most of all, happy Pride Month! If you live in or near a big city chances are you have a huge celebratory parade coming up. And to help you get prepared for it, here are some of the coolest beauty products for pride month 2018 that are all kinds of festive. From shimmery highlighters and equality tattoo stamps to vibrant shadows and more, the products will help you get fully decked out for whatever events you might have coming up.
Pride Month is celebrated each June as a means of honoring the 1969 Stonewall riots that took place in Manhattan. They were a watershed moment for the gay rights movement in the United States and prompted the organization of LGBT marches on a greater national scale. Today, Pride Month is honored through parades, workshops, concerts, and more, as well as memorials for members within the community who lost their lives due to hate crimes or HIV/ AIDS. As described thin an excerpt from the Library of Congress, "The purpose of the commemorative month is to recognize the impact that lesbian, gay, bisexual and transgender individuals have had on history locally, nationally, and internationally."
Below, shop six products that will help you craft a fire look for Pride and also give back to the LGBT community.
Glitterati
This product pack includes a glitter lipgloss and equality tattoo stamp. (If you've never used one of Milk's tattoo stamps the rule–you open the cap like a pen and instead of a ballpoint tip there's a cutely shaped felt stamp ready for dotting your body with!) The best part about this product combo is that Milk Makeup will donate 50% of the retail purchase price of it for the month of June to benefit The Lesbian, Gay, Bisexual & Transgender Community Center (The Center) in NYC.
Lip Service
This vegan and cruelty-free lip color, which is available in 6 rad shades, dries to a semi-matte finish and promises not to dry out your lips. For every tube sold, Formula Z will donate 50% of net proceeds to The Trevor Project, the leading national organization providing crisis intervention and suicide prevention to LGBTQ youth.
Smooth Talk
Designed by artists Craig & Karl, this shave kit includes an engraveable razor handle, three blade cartridges, a foaming shave gel, and a travel cover. 100% of the proceeds will be donated to GLAAD and other LGBTQ causes. GLADD is a nonprofit media organization that "tackles tough issues to shape the narrative and provoke dialogue that leads to cultural change. GLAAD protects all that has been accomplished and creates a world where everyone can live the life they love," according to their website.
Doing Grape
Lemonhead is known for it's dazzling glittery offerings and this one, in particular, is an annually-released favorite. Not only does it boast a blinding purple pigment but $5 of every jar benefits GLAAD.
Pencil It In
This pencil is one of Make Up For Ever's newest launches and for it, the brand teamed up with Hetrick-Martin Institute (HMI) to promote self-acceptance and to fete 39 years of the brand celebrating and empowering the LGBTQ community. From now until June 16, post to social media using the hashtag #AcceptedAnywhere and Make Up Forever will donate $10 to HMI. Their minimum contribution will be $10,000 and they'll max out at $39,000. To participate, do your makeup in a creative way that authentically represents you, post a selfie of your masterpiece with the hashtag, and tag @makeupforeverus and @HetrickMartin.
Kiss Kiss
Before this post, Fluide honestly wasn't on my radar but man, am I glad I found it! All year long the brand donates five percent of its profits to organizations that support the LGBT community including Callen Lorde, the global leader in LGBTQ healthcare, and the Sylvia Rivera Law Project, which "works to guarantee that all people are free to self-determine gender identity and expression, regardless of income or race, and without facing harassment, discrimination or violence," according to their website. This glitter gloss boasts an otherworldly sheen and contains aloe vera for your softest lips ever.