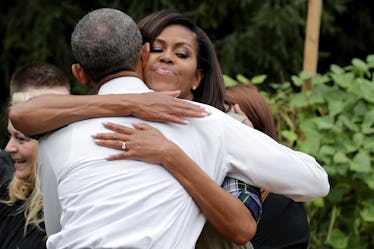 Barack Obama's Instagram Message For Michelle Obama's Birthday Is Adorable AF
Chip Somodevilla/Getty Images News/Getty Images
Congratulations on another trip around the sun, Michelle Obama! Jan. 17 is the former first lady's 54th birthday, and I hope she's somewhere beautiful celebrating. She definitely has the sweet birthday wishes lined up — thanks to her husband, Barack Obama's, birthday Instagram to Michelle Obama.
The former president wished his forever first lady a happy 54th both on Instagram and in real life on Jan. 17. Around 4 p.m. ET, he posted an adorable shot of the two of them to his social media, showing the couple of over 20 years posing together on what looks like a porch with a summertime garden in the background. Her hand rests on his knee, and he has one arm around her shoulders. Michelle looks at the camera, seemingly in the middle of a sentence, while Obama looks over her shoulder, gazing at her with an adoring expression on his face. He captioned the pic,
You're not only my wife and the mother of my children, you're my best friend. I love your strength, your grace, and your determination. And I love you more each day. Happy Birthday, @MichelleObama
Um, my heart. Could these two be any cuter? I'm almost inclined to forgive Obama for wearing that tan suit again.
I mean, I guess the suit matches her dress? OK, fine. Way to take one for the team, Barack.
This wasn't even the first sweet gesture he made for his wife's birthday, either.
Earlier in the day, Michelle revealed that her husband had pulled the smoothest of husband moves, and surprised her with flowers at her office. She posted her own Instagram shot — two photos worth, actually — of the gorgeous bouquet, accompanied by a card reading "happy birthday." In the caption, she thanked both her husband and those who wished her a happy birthday with cards and social media messages from around the country.
She wrote,
Thank you @BarackObama for the beautiful flowers waiting for me in the office this morning. You're my best friend, biggest fan, and getting notes and flowers from you will never get old. And to the many people from around the country who sent cards and posted on social media, you have no idea how much we love hearing from you. I know birthdays can sometimes be bittersweet (54!), but your messages of hope, generosity, and warmth have always reminded me how lucky and blessed we are.
Smooth, Barack. Smooth.
The second photo is an image of cute, brightly colored cards arranged over a calendar — on which the 17th is clearly marked with a "Happy Birthday!" I'm assuming that these are cards that people sent to her for her birthday, but I am also going to choose to believe that the calendar was marked by Obama in order to guarantee that he wouldn't miss his wife's birthday. He seems like that kind of guy.
Because the Obamas are known for their love of birthdays, anniversaries, and other celebrations almost as much as their love for each other. Neither one misses a chance to share an adorable social media pic, a tweet, or a #TBT to celebrate each other. Like, check out this cute tweet that Michelle shared for Obama's 56th birthday, back in August:
Or this totally adorable snapshot she shared of their wedding day, back in 1992.
(That's right, they've been married for a full quarter century. Can we say #goals?)
Man, the feels just keep coming.
Happy birthday to you, Michelle Obama, and congrats on your impeccably shot and framed social media tributes. May 54 see all your Instas find their perfect filters.