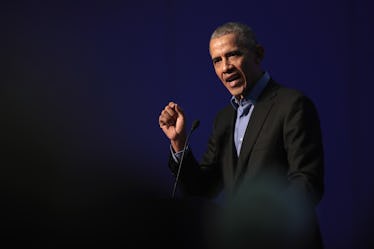 Barack Obama Praised The Parkland Students With Some Really Powerful Words
Scott Olson/Getty Images News/Getty Images
Time magazine published its annual list of the world's most influential people on Thursday, April 19. In it, the Parkland, Florida students-cum-gun-reform activists got a pretty high-profile shoutout. President Barack Obama praised the Parkland students with some really powerful words, and it's reminding me of simpler times.
"America's response to mass shootings has long followed a predictable pattern," Obama wrote. "We mourn. Offer thoughts and prayers. Speculate about the motives. And then ... the political debate spirals into acrimony and paralysis. This time, something different is happening. This time, our children are calling us to account."
The Parkland students are in some awesome company. Also making the Time 100 list were President Donald Trump, Oprah, Rihanna, Adam Rippon, Prince Harry, Kevin Durant, and more.
"Seared by memories of seeing their friends murdered at a place they believed to be safe," Obama continued, "these young leaders don't intimidate easily." Wow. I'd forgotten what it's like to hear words from the mouth of an eloquent president. It goes down like butter.
The Time 100 list is a 20-year-old tradition in which the magazine identifies key influencers who have had an incredible year. In a foreword to the list, Edward Felsenthal, the magazine's editor-in-chief, wrote,
The Time 100 isn't a measure of power, though many on the list wield it. Nor is it a collection of milestones accumulated. As our staff considers candidates, we often find ourselves wowed by those with stunning lifetime achievements. But editorial director Dan Macsai, maestro of the Time 100, brings us back to the key question: Was this their year?
It certainly seems like it's been the Parkland students' year. And they'd probably rather it wasn't. They'd probably rather their 14 classmates and three school faculty members were still alive; that they could return to their old high school lives in obscurity.
To many people's surprise, the students continue to push forward in their call for tighter gun laws to reduce the frequency of mass shootings in America. On Wednesday, survivors and siblings David and Lauren Hogg announced that they would release a book in June, detailing how they turned their grief into activism.
Obama's praise of the Parkland students is reminiscent of a different kind of commander in chief.
Obama's insight and explanation of the Parkland students' place on the Time 100 list calls to memory his position on gun control and the ways in which he spoke about respecting the Second Amendment. It makes me wonder what this movement would have looked like under his leadership.
Take, for example, Obama's remarks during this PBS NewsHour town hall in June 2016 — toward the end of his second term. He was able to cooly deconstruct a loaded question from an apparent gun owner about the claim that Democrats want to confiscate guns from responsible gun owners. At no point in the exchange is there hostility or condescension from Obama. He responded by saying,
We used to have really bad auto fatality rates. The auto fatality rate has actually dropped precipitously — drastically since I was a kid. Why is that? ... We studied what is causing these fatalities using science and data and evidence and we slowly treated it like the public health problem it was, and it got reduced. We are not allowed to do any of that when it comes to guns, because if you propose anything it is suggested that we're trying to wipe away gun rights and impose tyranny and martial law.
Obama also gave a teary-eyed speech on his gun reform initiative years after the 2012 Sandy Hook Elementary School shooting, in which 20 children and six adults were brutally murdered with an assault rifle, and after other dozens of shootings like it continued.
Obama, and former first lady Michelle, have praised the Parkland students for their bravery before the Time 100 list. The Obamas sent a letter to the Parkland students in March, writing that they'd "helped awaken the conscience of the nation."
Reactions from the Parkland students and other members of the Time 100 list started to pour in on Twitter Thursday afternoon, but Obama's note to the students certainly stood out.
"Our history is defined by the youthful push to make America more just, more compassionate, more equal under the law," Obama concluded in his Time essay. "This generation — of Parkland, of Dreamers, of Black Lives Matter — embraces that duty. If they make their elders uncomfortable, that's how it should be. Our kids now show us what we've told them America is all about, even if we haven't always believed it ourselves: that our future isn't written for us, but by us."