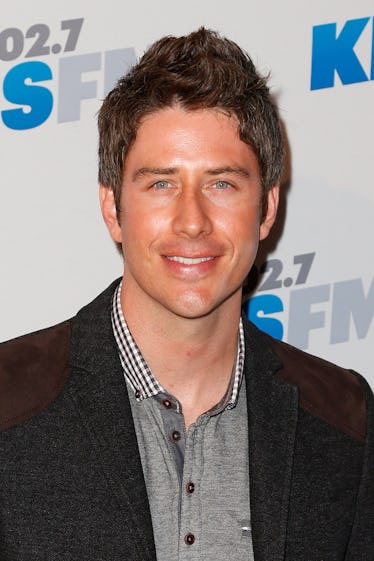 'Bachelor' Arie Licked A Bowling Ball On A Group Date & Twitter Is Absolutely Losing It
Imeh Akpanudosen/Getty Images Entertainment/Getty Images
Guys, something weird happened during Week 5 on The Bachelor. Arie took the ladies on a group date to a bowling alley. That is weird, but not what I'm talking about. Arie licked a bowling ball on the group date, and Twitter is so grossed out. You read that right, ARIE LICKED A STRANGE BALL AT A BOWLING ALLEY AND IT WAS DISGUSTING.
Arie and the contestants headed down to Fort Lauderdale to enjoy some fun in the sun, ocean views, and warmer temperatures. Unfortunately, no one in the group date got to experience these things because they went to a bowling alley. The ladies were split into two teams and got ready for a showdown. The game came with some pretty high stakes — the winning team got to spend the rest of the evening with Arie. All of this was overshadowed by one very bizzaro moment when Arie licked a bowling ball. Why did you do it, Arie? WHY?
As it turns out, Arie isn't just a maniac, he was replicating a very famous movie scene from The Big Lebowski.
If you haven't seen this classic, let me explain. Jesus is the name of The Dude's bowling rival. He wears head-to-toe purple and his signature move is giving the ball a quick lick before throwing.
Arie is apparently a fan of The Dude. While he probably thought re-creating the scene was a riot. However, Twitter was there and waiting to roast him.
The Big Lebowski reference wasn't lost on everyone. However, that didn't stop the Arie roasting.
Arie has really been put through the ringer this season. People truly love to pick on him. Sorry, Arie, it's all out of love. The race car driver did get a ringing endorsement from one very important source — Bachelorette alum and regulation hottie, Peter Kraus.
Peter may not be The Bachelor this season, but he definitely has some thoughts on the current one. Elite Daily sat down with Peter and got the scoop. He said,
I watched the first two episodes,that was it. Arie seems like a good guy, he definitely seems like he's investedin the process and wanting to get to know everybody as much as possible. Heseems very serious about it, which I think people are taking as kind of dry butI think I'd probably be the same if I were in that position: I really want toget to know these people because I will hopefully, at least, develop arelationship if not get engaged at the end of these 10 weeks.
Leave it to Peter to say something dripping with truth while being totally supportive. I think part of the reason people give Arie such a hard time is because fans were pulling so hard for him to be The Bachelor.
As it turned out, Peter was not The Bachelor because he flat-out said, "no," not because of any Arie sabotage. The runner-up from Rachel Lindsay's Bachelorette season sat down with Entertainment Tonight to reveal the truth behind the decision. Peter did drop a little nugget of hope for fans when he said,
If the offer were to come up in the future, I could see myself doing it. It seems like an amazing opportunity. At this stage in my life, I'm single, I'm happy, business is good, family is good.I'm ready for the next step again, and if that's what route it took, I'd be OK with that.
PETER KRAUS IS SINGLE. DEEP BREATHS. I NEED A COOL WASHCLOTH.
If Peter approves of Arie, so do I. For real though, Arie's season has been really great so far — I can't see what happens with the final 10 contestants.
Check out the entire Gen Why series and other videos on Facebook and the Bustle app across Apple TV, Roku, and Amazon Fire TV.