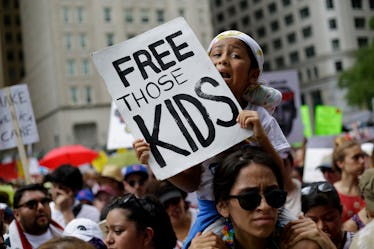 Babies Too Young To Speak Are Showing Up In Immigration Court & What Is Happening
Joshua Lott/Getty Images News/Getty Images
The fight to reunite separated immigrant children with their families has been on everyone's minds since it first made headlines in early June, but unfortunately very little has been done so far. While President Trump signed an executive order attempting to keep families together in mid-June, the government immediately switched to attempting to keep children detained alongside their guardians undergoing prosecution. Now there's another development in this upsetting saga of detained migrant children, and it's not good news. According to nonprofit media company The Texas Tribune, babies are appearing in immigration court after being separated from their families.
Yeah, seriously.
According to The Texas Tribune, the Trump administration summoned at least 70 infants to immigration court on behalf of their own deportation cases since Oct. 1, 2017. Some of these children who have been summoned were reportedly separated from their families and eventually deemed "unaccompanied" and taken to Department of Health and Human Services (HHS) facilities to stay. According to Justice Department data provided to Kaiser Health News, a total of 1,500 children, from newborns to 3 year olds, have been called into immigrant court since October 2015. Although three-fourths of the infants have legal representation in court, that doesn't change the fact that children who are too young to speak are expected to defend themselves from deportation in immigration court. Plus, according to The Texas Tribune, the number of infants aged 1 or younger appearing in immigration court has been steadily increasing over the years. In the fiscal year that ended in September 2017, 24 infants were deemed unaccompanied and were summoned to immigrant court.
Not only are these children still literal babies, but many of them still require tons of parental attention and care, such as breastfeeding and frequent touch. Robert Carey, a former employee of the Office of Refugee Resettlement (ORR), the organization that takes care of unaccompanied minor immigrants, spoke to The Texas Tribune about the crisis of children in immigration court. "This is to some extent a crisis of the creation of the government," Carey said. "It's a tragic and ironic turn of events."
A spokesperson for the Executive Office for Immigration Review, part of the DOJ, confirmed in an email to Elite Daily the number of unaccompanied children under the age of 1 appearing in immigration court. The spokesperson added that the office complies with all applicable law in reference to children under removal proceedings, and that children summoned to court may be with a parent or guardian who is also in proceedings, or have a sponsor's aid. The office did not directly answer a question about how many young children summoned to immigration court had been separated from their parents.
The Trump administration announced its "zero-tolerance" policy on immigration back in April, and since then more than 2,000 children have been separated from their families. Naturally, this sparked bipartisan outrage, and on June 20, Donald Trump signed an executive order to stop these separations from continuing. This may sound like a victory at first, but unfortunately there's still a ton of work to be done — like actually reuniting children with their families — and the road to fix this crisis hasn't been easy. On June 26, attorneys from the Department of Justice (DOJ) announced that they were seeking to cancel the Flores agreement, which prohibited immigrant children from being detained indefinitely, so that adults with children could continue being detained together. However, on July 10, the DOJ's proposal was struck down in court by Judge Dolly Gee, who — memorably — called the government's request "procedurally improper and wholly without merit" in her ruling.
Despite the trauma currently happening to these children, as of July 18, very little has been done to help these families reunite. Despite the court-mandated July 10 deadline that required the administration to reunite children under the age of 5 with their parents, on July 9, the Trump administration announced they wouldn't be reuniting all of the 102 migrant children with their families by that date.
In the meantime, concerned citizens and passionate activists are stepping up and speaking out about this crisis. Whether it's confronting Trump officials in public or staging nationwide protests, many individuals are letting the Trump administration know that they won't stop fighting until effective change has been made. On June 30, people in cities all over the world marched together as a part of the Keep Families Together marches to protest the separation of immigrant families. This is just one of a number of protest marches that have taken place since Donald Trump took office, and it's unlikely to be the last.
Despite your political party affiliation, there's no denying that something has to be done to help these children. Since they can't speak for themselves in court, let's hope they have representation that will lift them up and give them a fighting shot.