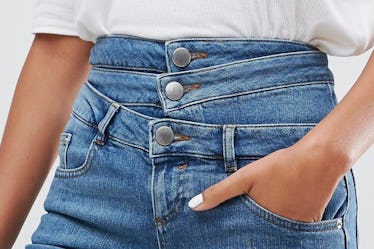 ASOS' "Triple Waistband" Jean Is Currently On Sale & They're Already Going Viral
ASOS
Growing up, I was already developing curves in elementary school and taller than most of the boys, so jeans were my arch nemesis. Now that I'm older and have found what fits my shape and height, I have several beloved pairs in my arsenal. And now ASOS' "Triple Waistband" Jean is breaking the internet, my friends, and they're currently on sale. ASOS, Valentine's Day may be over, but you're my forever love!
You can often find me on asos.com, in my free time. I kind of have an unhealthy obsession as of this point. While most people window shop for jeans, I actually place several orders. Ever since they developed the free two-day shipping, I'm pretty sure I've entered into stalker zone. I even like to keep updated on news about the brand, so when I read a TeenVogue.com piece about this viral pair of triple waistband jeans, I had to take a look.
Weird-looking jeans are currently having a moment, although I wouldn't necessarily label them "weird." I'm all for someone rocking what they want to wear because my style can be eclectic at times. That's what I love about fashion and style, though. Rant aside, these pants are actually super cool.
Made from 98 percent cotton, these stretch denim jeans have a mid-blue wash with a triple waistband and high-rise design. If you're wondering where the fly is, it's concealed to show off that intricate waistband. I was confused at first, but with a second look, I actually prefer the concealed fly. It makes the jeans more streamlined and would have just looked messy with an exposed zipper.
If you're anything like me, you love pockets. I'm not saying I can't wear jeans without pockets, but there's nothing I hate more than when a jean has a fake pocket. In this case, you don't have to worry. The pocket is fully functional, but I doubt your iPhone will fit.
To round off the jeans, they have a cropped finish with raw cut cuffs. Honestly, the more I look at these jeans, the more obsessed I get. The detailing is so immaculate and the raw cut cuffs are my jam. With my long legs and curves, if I'm not wearing boots, I tend to go for a cropped jean. There's something about the silhouette that makes me feel the most confident. These also have a high-waist fit. Basically, ASOS-obsessed shoppers are winning from all angles.
They even have those small buttons on the pocket. Have you ever wondered what those weird small buttons were? I've specifically always wondered what the purpose was. Now if connoisseurs are going to call anything weird about jeans, this is definitely it.
According to Bustle writer Anna Menta, these tiny buttons on our jean pockets are actually called rivets, and they have a purpose. Patented by Mr. Levi Strauss, like the Levi Strauss (king of jeans), rivets were created to prevent our jeans from wearing out. Back in the day, Strauss was always confronted by coal miners that complained of their jeans ripping at the seam and wearing out. The clever idea actually didn't come from him though.
A customer and tailor named Jacob Davis reported that if pocket seams were strengthened by copper rivets at the weak points, then that would improve pants. He didn't have the money or backing to patent his invention. Strauss and his partners not only helped the patent come to life, but they were able to create a large-scale production of the pants for miners. After that, Davis worked for Strauss and they switched from using canvas to create heavyweight blue denim.
Next time you're perusing on ASOS just think, a man named Jacob Davis is totally the reason why blue jean fans can rock these crazy styles. Thank you, Mr. Davis and Levi Strauss, you're the real MVP!